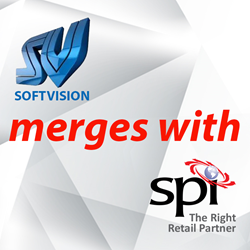 Softvision now benefits with market access to an industry that is ripe for innovation
Sunnyvale, CA (PRWEB) June 01, 2016
Softvision Consulting LLC, a leading global provider of product development and software engineering solutions, announced today the merger with Software Paradigms International Group, LLC ("SPI"), an Atlanta-based global IT services and solutions provider for retailers around the globe.
Softvision will continue its successful Silicon Valley model for delivering accelerated innovation to its customer base with its unique client collaboration engagement and proven methodologies for next-generation development. In addition, Softvision will now leverage the operational infrastructure of SPI to enhance and expand its US practice in providing new, broader services to meet its clients' growing needs.
Softvision and SPI will also deepen their reach by combining their services to provide the combined client base with strategic and innovative offerings within the highly competitive environment.
"Our Retail clients always expect SPI to be leading with the best in class solutions and technologies", says Sid Mookerji, founder and CEO of SPI. "As these clients embark on their digital transformation initiatives for front-end mobile systems and an integrated omni-channel experience, Softvision now gives us instant delivery on these strategic initiatives. We are extremely excited about these new offerings."
"Softvision now benefits with market access to an industry that is ripe for innovation to provide a unique competitive edge in the Retail marketplace. We are proud to partner and learn from our SPI colleagues the best practices of successfully creating a deep vertical practice that can further establish ourselves as a trusted provider to our clients", say Laurentiu Russo, founder and CEO, of Softvision.
The combined company will be called Softvision Paradigms International Group, LLC and will do business as SPI.
The Softvision and SPI merger is poised to immediately grab market share in the high-growth software development industry with combined resources of over 3,000 developers, engineers and IT professionals in North America, South America, Europe and Asia.
About Softvision Consulting LLC
Established in 1998, Softvision is a leader of software product development services within Silicon Valley and United States. With over 1,200 development engineering resources and over 80 client customers, Softvision provides a unique business model that delivers high value to their clients in highly competitive industries by accelerating innovation.
For more information, please visit http://www.softvision.com.
About Software Paradigms International Group, LLC
Established in 1994, SPI is an award winning IT services and solutions provider for retailers around the globe. From retail expertise, retail technology products, and IT services through to supplier collaboration, SPI delivers high quality outcomes for its clients. SPI's mission is to be The Right Retail Partner. SPI is headquartered in Atlanta, GA with offices in Australia, Brazil, Canada, Singapore and development centers in India and Nepal. SPI assists retailers transform the retail value chain from silos to customer centric Omni-Channel agile organizations. SPI offers complete IT solutions and services to global retailers, including mobility, eCommerce, integration, consulting, merchandising, analytics, vendor management, and infrastructure.
For more information, please visit http://www.spi.com.