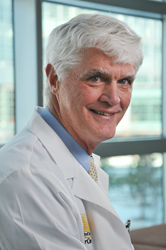 I view this award as an honor but also as an indication of progress in the field of lung cancer.
Aurora, Colo. (PRWEB) June 02, 2016
Paul Bunn, Jr., MD, FASCO, distinguished professor at the University of Colorado Cancer Center and James Dudley Professor of Lung Cancer Research at the University of Colorado School of Medicine has been named the 2016 David A. Karnofsky Memorial Award and Lecture recipient, a prestigious award presented at the American Society of Clinical Oncology's (ASCO) Annual Meeting. Dr. Bunn's distinguished career in lung cancer research includes more than 320 peer-reviewed articles, 200 reviews and 90 book chapters. He has been principal investigator on many national and local clinical trials and is the principal investigator on the NCI's CU Cancer Center SPORE grant in lung cancer, designed to speed the progress of new treatments from basic research to clinical use. Dr. Bunn served as ASCO President from 2002 to2003, as president and CEO of the International Association for the Study of Lung Cancer, chairman of the FDA Oncology Drug Advisory Committee, and is the founding director of the CU Cancer Center.
"I view this award as an honor but also as an indication of progress in the field of lung cancer," Bunn says. "In the last decade, molecular therapies and immunotherapies have improved outcomes for lung cancer patients considerably. New screening protocols and methods have reduced mortality. And getting people to stop smoking has made a huge impact. I view this award as a tribute to those people who made these advances in prevention, early detection, pathology, staging and treatment."
The award is named after David A. Karnofsky, researcher and oncologist at Harvard University and then Memorial Sloan Kettering Cancer Center. Karnofsky was instrumental in the development of the first chemotherapies and then described what became known as the Karnofsky Performance Status Scale, which quantified a patient's ability to withstand chemotherapy and became a standard tool in choosing cancer treatments. Karnofsky died of lung cancer in 1969.
Bunn's career has focused on creating insights from lung cancer biology to inform the development of targeted treatments. This has included pioneering studies of lung cancer cells exploring their genetic and genomic vulnerabilities. Understanding these vulnerabilities has driven a paradigm shift in lung cancer treatment, from exclusively chemotherapy/radiation to targeted treatments that exploit the specific genetic changes that make a cancer unique.
"For example, understanding that some lung cancers have activating mutations in the epidermal growth factor receptor (EGFR) led to new oral tyrosine kinase inhibitors (TKIs) blocking EGFR signaling," Bunn says. "Subsequently, investigators found many more activating genetic alterations including ALK, ROS1, BRAF, RET, NTRK and others that have also led to new oral TKIs and improved outcomes."
Bunn describes the rapid translation of these basic discoveries to FDA-approved therapies and diagnostics that have improved survival and quality of life for lung cancer patients. However, due to the inability to produce complete regressions and the universal development of resistance, when used alone these TKI therapies do not cure advanced lung cancers. Now the challenge is to increase the effectiveness of these treatments, leading to, as Bunn says, "less side effects, more efficacy and longer duration."
According to Bunn, the answer will again be found in the biology of the disease, both in new understanding of mechanisms that allow lung tumors to persist when challenged by these medicines and in the development of rational combinations of these medicines to combat cancers synergistically.
In addition to TKIs, Bunn sees great promise in immunotherapies designed to recruit the body's immune system to attack tumor tissue and points out that new strategies and refinements of existing strategies are aiding efforts to prevent and diagnose the disease.
However, while basic biology may be the engine that allows the development of new cancer therapies, Bunn does not see understanding alone as the field's endpoint. "A scientist can sit at a bench all day and nothing's going to happen unless you also have a doctor and a patient," Bunn says. "Advances in cancer treatment require the scientist, the clinician, the patient and well-designed clinical trials."
Bunn extends these needs to include a careful regulatory environment that balances the needs of safety and speed, and also to funding for research, testing and care.
"The reality is that the investment in research has worked. Understanding the biological principles has resulted in treatments that help patients," he says. Bunn states that he is extremely grateful for the many fruitful collaborations with many outstanding CU basic scientists, pathologists, pulmonologists, medical and radiation oncologists, thoracic surgeons, radiologists, statisticians, and bioinformaticians. These collaborations have made CU a leader in the rapid advances in lung cancer worldwide.
Bunn's career represents the branch of cancer medicine that has chosen to prioritize the science of the disease. Now the David A. Karnofsy Memorial Award and Lecture recognizes the impact of this approach on patients' lives.