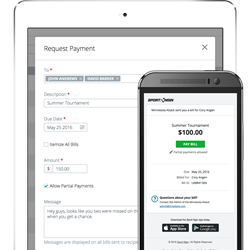 "Thousands of transactions and tens of thousands of dollars have been processed through the PowerPay beta program with complete accuracy from billing through payment and finally funding."
MINNEAPOLIS, Minn. (PRWEB) June 01, 2016
Starting today, all 9,000+ Sport Ngin customers have access to Sport Ngin PowerPay. PowerPay allows organizations to bill and manage balances for members, leveraging rosters and smart groups to make billing large groups of people as easy as creating a single bill. Ultimately, PowerPay helps organizations capture more income, save time, and decrease communication and accounting headaches.
In addition to Sport Ngin customers, the new online billing tool aims to help the families of those youth and amateur sports organizations by providing a fast, secure payment option from any mobile device or computer, and easy access to all their bills from within their Sport Ngin dashboard. Auto notifications will keep them up-to-date on all account activity.
"Thousands of transactions and tens of thousands of dollars have been processed through the PowerPay beta program with complete accuracy from billing through payment and finally funding," said Casey Kipfer, PowerPay product manager. "Based on the feedback from our beta participants, I'm excited to make PowerPay available to all of Sport Ngin's customer base today."
# # #
About Sport Ngin
Helping the world play smarter and live more, Sport Ngin is the leading provider of Sport Life Management web software and mobile applications for youth, amateur, and professional sports. Powering more than 500,000 sports teams, leagues, clubs, and associations, Sport Ngin features a complete suite of easy-to-use tools that help sports organizations manage, connect, and communicate with a diverse range of stakeholders, including athletes, parents, administrators, coaches, referees, scouts, volunteers, fans, journalists, and sponsors. Founded in 2008, Sport Ngin is based in Minneapolis, Minn. For more information, please visit http://www.sportngin.com; like the company on Facebook at Facebook.com/SportNgin; or follow Sport
Ngin on Twitter at @sportngin.
Media Contact:
Jim Dahline
Sport Ngin
Marketing Manager
press(at)sportngin.com
Client Contact Info