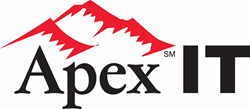 Minneapolis, MN (PRWEB) June 02, 2016
Apex IT, a technology implementation company and Platinum level member of Oracle PartnerNetwork (OPN), today announced it has achieved the Cloud Select designation within OPN Cloud program.
The OPN Cloud program enables members to showcase their expertise, skills and investment in Oracle Cloud, as well as differentiate themselves with Oracle's
integrated cloud applications and platform services.
By achieving the Oracle Cloud Select designation, Apex IT has demonstrated success in implementing Oracle Cloud for customers in North America. Apex IT has also earned "Go To" status for Oracle CX Cloud Suite, making Apex IT one of the top Oracle systems integrators and a partner to consider for all Oracle CX Cloud Suite projects.
Oracle Cloud Select partners are recognized for delivering services through competency development, committed staffing, business results and proven success around Oracle Cloud Services.
"Our goal is to be a leader in the Oracle CX Cloud Suite space, and this is another step on the road of us growing so Apex IT can continue to build great relationships with while providing tailored solutions utilizing the latest technology from Oracle," said Chris Rapp, CEO of Apex IT.
"By earning this Cloud Select Designation, Apex IT has differentiated themselves and proven that they are committed to providing the best customer experience possible, and they continue to be a valuable member of Oracle PartnerNetwork," said Paul Brown, Vice President of CRM/CX Alliances at Oracle.
Apex IT, having worked with Oracle Sales Cloud since its Beta release, is a two-time recipient of Oracle's CRM Partner of the Year Award, given for demonstrating outstanding and innovative solutions for our clients. Apex IT is focused on helping our customers determine the keys to successfully implement their CRM strategy, which include People, Process, Technology, and Data.
Oracle Cloud is the industry's broadest and most complete public cloud, delivering enterprise-grade services at every level of the cloud technology stack including software as a service (SaaS), platform as a service (PaaS), infrastructure as a service (IaaS), and data as a service (DaaS).
About Apex IT
Founded in 1997, Apex IT has grown continuously, but the mission has stayed the same: to help public sector, corporate, and higher education clients use technology to streamline their processes and increase productivity and profitability. To date, Apex IT has completed more than 1,650 engagements around the globe, helping clients with everything from strategic guidance to implementation to long-term direction. Apex IT is dedicated to staying ahead of the competition in offering clients the People, Processes, and Technologies that will meet their changing demands.
About Oracle PartnerNetwork
Oracle PartnerNetwork (OPN) is Oracle's partner program that provides partners with a differentiated advantage to develop, sell and implement Oracle solutions. OPN offers resources to train and support specialized knowledge of Oracle's products and solutions and has evolved to recognize Oracle's growing product portfolio, partner base and business opportunity. Key to the latest enhancements to OPN is the ability for partners to be recognized and rewarded for their investment in Oracle Cloud. Partners engaging with Oracle will be able to differentiate their Oracle Cloud expertise and success with customers through the OPN Cloud program – an innovative program that complements existing OPN program levels with tiers of recognition and progressive benefits for partners working with Oracle Cloud. To find out more visit: http://www.oracle.com/partners.
Trademarks
Oracle and Java are registered trademarks of Oracle and/or its affiliates.