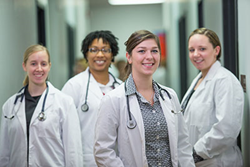 Lynchburg, VA (PRWEB) June 01, 2016
Liberty University's School of Nursing recently received full accreditation for its Doctor of Nursing Practice (DNP) program through the Commission on Collegiate Nursing Education (CCNE) for the maximum 5-year period allowed for new programs.
CCNE is recognized by the U.S. Secretary of Education as a national accreditation agency and serves higher education institutions and acute care hospitals throughout the United States. CCNE ensures the quality and integrity of programs in nursing by assessing and identifying curriculum that engages in effective educational practices.
Dr. Sharon Kopis, chair of Liberty's DNP program, said this accreditation demonstrates a "hallmark of excellence" for Liberty's nursing program.
"There are many standards that have to be achieved in order to be accredited," she explained. "The DNP has met these national standards at the doctoral level in education through curriculum, scholarship, leadership, and clinical practice."
Kopis added that the nursing program not only has the resources needed for this accreditation, but it also has "outstanding" academic support and faculty.
"The accreditation process not only evaluates curriculum, but it also evaluates faculty, student outcomes, processes and structures of the program, and resources. Our faculty is academically and clinically prepared, and we have amazing resources within the school itself," she said. She pointed to the School of Nursing's Simulation Center, which includes 18 exam suites, a 13-bed medical surgical unit, pediatrics and neonatal intensive care simulation, and a postpartum and newborn nursery lab, and utilizes standardized patients.
Liberty's DNP program trains nurses to become leaders, family nurse practitioners, and clinical experts. Two paths are available — an online post-MSN and a residential post-BSN — that incorporate additional clinical training to prepare students for advanced careers in nursing. The residential program prepares students to take a national certification examination for family nurse practitioners.
Liberty's Bachelor of Science in Nursing (BSN) and Master of Science in Nursing (MSN) are also accredited by CCNE.
Liberty's School of Nursing is committed to student success, upholding high academic standards and an atmosphere of encouragement in both the classroom and clinical areas. Last fall, 98 percent of BSN graduates passed the National Council Licensure Examination on their first try — one of the highest passage rates in the state.
In addition to the DNP program, Liberty offers a BSN with rigorous courses in pharmacology, critical care, and childbearing. The school also offers advanced degrees, including an MSN that is offered completely online. Additionally, the school offers an online RN to BSN program to help nurses continue their education and advance their careers.
About Liberty University
Liberty University, founded in 1971, is the largest private, nonprofit university in the nation, the largest university in Virginia, and the largest Christian university in the world. Located near the Blue Ridge Mountains on more than 7,000 acres in Lynchburg, Va., Liberty offers more than 500 unique programs of study from the associate to the doctoral level. More than 200 programs are offered online. Liberty's mission is to train Champions for Christ with the values, knowledge, and skills essential for impacting tomorrow's world