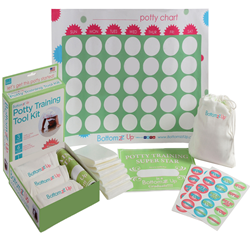 Let's Get This Potty Started
Del Mar, California (PRWEB) June 02, 2016
The Simple, Fun and Eco-friendly Potty Training System for a New Generation.
Developed by single mompreneur, Lynn Ell Tilker, BottomZz Up® is an innovative potty training system that offers parents and kids less stress and environmental waste, and more reward than traditional training methods. BottomZz Up is the only potty training system that allows toddlers to actually feel the discomfort of their accidents! The 100% cotton potty training underwear features proprietary technology that lets kids feel wet when they are wet, while at the same time, preventing leaks and messy clean ups. Perfect for families on-the-go, BottomZz Up offers the consistency, routine and encouragement kids need, day and night, home or out on the town. Equally important, BottomZz Up also helps parents save money and reduce environmental waste compared to disposable training pants.
"I would often hear parents say, 'We are on Potty training lockdown,' or 'We are not going anywhere because we are potty training this weekend' and I thought they were crazy," says Lynn Tilker, founder of BottomZz Up. "As a society, we've turned one of the biggest milestones in a toddler's life into something that is dreaded, messy, and stressful. This big leap from total dependence to independence should be fun and celebrated! I knew there had to be a better way to potty train that was not only fun but also fast and more environmentally friendly; which is why I created BottomZz Up." Lynn's own daughter, Harper Rose, was the first graduate of the BottomZz Up training system.
How it works – Encourage, Participate, Celebrate!
The simple, all in one BottomZz Up Potty Training Tool Kit includes everything parents need to smoothly transition their toddler to big kid underpants while having fun. To begin, children ready to potty train should wear the BottomZz Up potty training underwear, 24 x 7 (not the same pair, please). Next, parents place the reward chart and stickers by the potty so every attempt can be encouraged and rewarded. Accidents happen and when they do, the wet insert can be tossed in the trash and the BottomZz Up underwear in the washer and a new pair put on with a fresh insert. Consistency is the key, even at bedtime! Every kid is different, but after using BottomZz Up, parents will see less accidents and more trips to the potty. When little ones become potty pros, complete the included graduation certificate and CELEBRATE!
The BottomZz Up Toolkit costs $97.45 and is available online at http://www.BottomZzUp.com. Insert refills are available for $17.45/ pack of 10 and replacement underwear for $47.45/ pack of 3.
BottomZz Up is part of the portfolio of eCubed Designs, a company created from the heart to develop products that are economically, environmentally and emotionally friendly. For more information, visit http://www.BottomZzUp.com.
For hi-res images, visit: http://www.brilliantbabyproducts.com/gallery/bottomzzup/