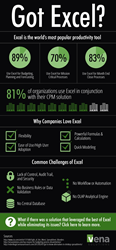 London, UK (PRWEB) June 02, 2016
Vena Solutions, the fastest growing provider of cloud-based corporate performance management (CPM) software, today expanded its global reach by announcing its participation in the Commonwealth Trade Initiative. Unveiled at a launch event in London last week, the Commonwealth Trade Initiative is designed to connect buyers and sellers across the 53 member countries of the Commonwealth.
"Turning Excel into an enterprise-class business solution the way Vena does is a truly global value proposition," said Tim Dearden, Chief Strategy Officer at Vena Solutions. "This is an exceptional and innovative opportunity to bring that value to an even wider global market."
Vena already has offices on four continents and a growing roster of hundreds of clients across the globe. For finance and business departments alike, the company combines Microsoft Excel with enterprise-grade features including:

A centralized database of trusted financial and other performance metrics;
Sophisticated but easy to design workflow to automate manual spreadsheet processes;
Business rules and a detailed audit trail to maintain control and visibility over corporate data;
Modelling, reporting and analytics capabilities including Excel's 400+ built-in functions;
Cloud delivery for anytime, anywhere and any device access.
"By embracing Excel as a business platform our clients are able to eliminate risks and inefficiencies in their business processes without having to give up their favourite spreadsheet software," added Dearden.
About the Commonwealth Trade Initiative – http://www.tradecommonwealth.com
The Commonwealth Trade Initiative is a web-based platform designed to connect buyers and suppliers across Commonwealth markets to unlock business opportunities. The program is led by AMPP Group and the Commonwealth Enterprise and Investment Council (CWEIC). The CWEIC is not for profit membership organisation established in July 2014 to promote trade, investment and the role of the private sector across the 53 member countries. The CWEIC works with member companies to expand their businesses and to help with new investments in any Commonwealth country.
About Vena Solutions – http://www.venasolutions.com
Vena turns Excel into an enterprise-class business solution with a centralized database, workflow, detailed audit trail and more. With Vena, hundreds of leading global brands now get trusted numbers and insights – fast – without sacrificing the investments they've made in Excel templates, models and reports. Our customers use Vena for corporate performance management (CPM) applications including budgeting, financial close management, reporting, and automating other spreadsheet driven processes across and beyond finance. Vena is the fastest growing cloud CPM vendor, and the only one to embrace – not replace – Excel spreadsheets.