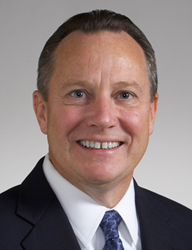 I am excited to join MEC's leadership team and look forward to contributing to MEC's future success.
Mayville, WI (PRWEB) June 03, 2016
Mayville Engineering Company, Inc. (MEC) today announced that Timothy L. Christen was elected to the company's board of directors. Christen retired as Chairman & CEO of Baker Tilly in May 2016, a position he has held since June 1999. With more than 2700 employees, Baker Tilly is America's 13th largest accounting and advisory firm. Under Tim's leadership the firm's revenue grew from $28MM to over $500MM through a combination of strong organic growth and strategic mergers.
Christen is among the most well-known and highly respected leaders in the U.S. accounting profession. He currently serves as the Chairman of the Board of the American Institute of CPAs, an organization with more than 412,000 members.
"I'm extremely pleased to have Tim join our board," said Robert D. Kamphuis, Chairman, President and CEO of MEC. "We look forward to the valuable insight that Tim brings to our Board from his extensive experience leading Baker Tilly and achieving tremendous growth results for his organization. His vast business experience in a number of diverse industries and leadership talents will help MEC continue to drive long-term profitable growth for our shareholders."
Christen is a graduate of the University of Wisconsin-Platteville where he received the 2001 Distinguished Alumnus Award, and has been a keynote speaker at UW Platteville's past commencement programs. Christen completed the Leading Professional Services Firms program at Harvard Business School as well as numerous additional educational programs in leadership, governance, and strategy. He is actively involved in the international accounting profession and business community and currently serves on the International Integrated Reporting Council (IIRC). Christen also serves on the boards of Sub-Zero Wolf Appliance Group, American Institute of Certified Public Accountants, U.S. Bank Wisconsin Advisory Board, and Baker Tilly International. In the past, he has served on the AICPA Board of Directors, the AICPA Governing Council, and was the chairman of the AICPA Major Firms Group. He has been recognized by Inside Public Accounting as one of the five Most Admired US Managing Partners and by Accounting Today as one of the 100 most influential people in the accounting profession.
"MEC has a proven track record of focus on customer success and value creation," Christen said. "Coupled with the alignment from its employee ownership culture, MEC is well positioned for future growth and success. I am excited to join MEC's leadership team and look forward to contributing to MEC's future success."
In addition to Christen, MEC's board of directors consists of Robert D. Kamphuis, chairman, president and CEO of MEC; Allen J. Carlson, retired president & CEO, Sun Hydraulics Corp; Steven L. Fisher, retired vice president, Caterpillar; Craig E. Johnson, Corporate Insurance Solutions, Inc.; Patrick D. Michels, president and CEO of Michels Corporation; Jay O. Rothman, partner, chairman & CEO of Foley & Lardner; and John A. St. Peter, partner at Edgarton, St. Peter, Petak & Rosenfeldt.
Founded in 1945, MEC is one of the nation's leading supply chain partners for blue chip original equipment manufacturers. MEC has been recognized by The FABRICATOR magazine as the largest fabricator in the United States for the last five consecutive years. For more information, news and perspectives from MEC, please visit http://www.mecinc.com.
###
About Mayville Engineering Company
Headquartered in Mayville, Wis., MEC has become a manufacturing company where employee shareholders are creating outstanding value and support every day for their customers and communities in which they live and work. MEC serves the agricultural, commercial vehicle, construction, forestry, on/off road power sports vehicles, energy, military, and industrial markets. MEC's processes include complete metal fabrication, laser and plasma cutting, stamping, forming, machining, welding, tube bending and forming, painting, polishing, brazing, cleaning, assembly and kitting, prototyping, product testing and validation. MEC manufactures a wide variety of products including fluid level indicators, stoppers, engine tubes, suction tubes, hydraulic tubes, discharge tubes, fill tubes, high temp coatings, metal encapsulated insulation, fuel tanks, air brake tanks, air intake and exhaust systems, A-arms, axle housings, steering shafts, rollover protection units and complex frames. The firm's core competencies include collaborative product development, design for manufacturability, engineering and design review, project management and customer service. MEC operates 17 facilities with over 2,100,000 square feet of manufacturing in Michigan, Mississippi, South Carolina, Virginia and Wisconsin. More information can be found at http://www.mecinc.com.