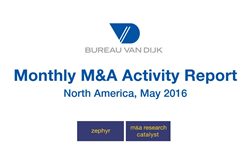 May turned out to be a disappointing month for M&A in NA as two months of consecutive value increases came to an end. The first half of 2016 has been disappointing in terms of deal making, particularly when compared to the highs recorded in 2015
New York, NY (PRWEB) June 03, 2016
There were 1,872 mergers and acquisitions (M&A) worth a combined USD 103,526 million targeting North American companies announced during May, according to information collected by the leading M&A database Zephyr. This represented a 14 per cent decline by value on the USD 120,121 million announced in April and a 59 per cent decrease year-on-year (May 2015: USD 253,700 million). Volume dropped at the slower rate of 4 per cent month-on-month and 15 per cent year-on-year (April 2016: 1,954 deals; May 2015: 2,213 deals).
Zephyr shows that all of the top 20 deals by value were worth more than USD 1,000 million in May and were predominately domestic US deals, with the exception of three deals involving Canadian firms. The largest M&A deal by value announced during the month was Quintiles Transnational's USD 8,750 million agreement to acquire Connecticut-based healthcare industry consultancy IMS Health Holdings.
Companies operating in the primary sector (agriculture, mining etc.) received the most investment in May, as deals worth a combined USD 14,012 million were announced, representing a 69 per cent increase on the USD 8,267 million notched up in April and a 4 per cent rise on USD 13,518 million in May 2015. These primary sectors were worth almost double second placed machinery, equipment, furniture and recycling, which was targeted in deals worth USD 7,355 million over the four weeks under review and was closely followed by the chemicals, rubber and plastics sector with USD 7,230 million.
Lisa Wright, Zephyr director, commented, "May turned out to be a disappointing month for M&A in North America as two months of consecutive value increases came to an end. Declining deal numbers appears to have subdued total deal values somewhat over the last four weeks, despite all of the top 20 deals breaking the USD 1,000 million-barrier. The first half of 2016 has undoubtedly been disappointing in terms of deal making, particularly when compared to the highs recorded in 2015. As dealmakers look towards the second half of the year, they may take comfort from the fact that Canadian investment levels improved month-on-month while private equity investment levels were largely unchanged in May."
Meanwhile, the Zephyr database shows that the value of private equity and venture capital (PE and VC) investment in North American companies in May declined slightly month-on-month as USD 20,590 million was notched up over the course of the four weeks, compared to USD 20,692 million in April. A similar result was seen in the US as USD 19,940 million was invested there in May (April: USD 19,748 million), while investment in Canadian businesses declined 31 per cent to USD 650 million.
For further information, please contact:
Zephyr Editorial

Email Us: Americas(at)BvDinfo.com
Notes to Editors:
About the data
1. Activity is based on the activity of the target country
2. The date range for May 2016 is deals announced between 01/05/2016 – 30/05/2016 inclusive
3. The sector breakdown uses targets' activities as defined to be 'Major Sectors' by Zephyr
About Zephyr - More information on Zephyr
Zephyr is an information solution containing M&A, IPO and venture capital deals and rumours with links to detailed financial company information. Winner of numerous recent M&A industry awards, including Best M&A Data Publisher 2015 at the Acquisition International M&A Awards, Zephyr is published by Bureau van Dijk (BvD). The deals on Zephyr are linked to the company financials and peer reports on BvD's product range. Zephyr contains information on close to 1.4 million deals.
About Bureau van Dijk - More information on Bureau van Dijk
Bureau van Dijk (BvD) is the leading provider of private company, corporate ownership and deal information. BvD's product range combines data from regulatory and other sources, including 140 information partners, with flexible software to allow users to manipulate data for a range of research needs and applications. Its Orbis database provides information on 180 million companies across the globe.
In addition, BvD addresses specific business challenges through its range of Catalysts including transfer pricing, credit, procurement, KYC, client on-boarding, M&A research and valuations, while BvD custom delivers bespoke solutions.