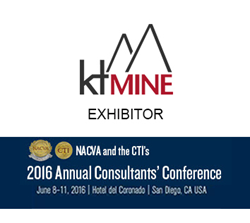 Chicago, Illinois (PRWEB) June 03, 2016
ktMINE, an innovation and intangible asset information services firm, announced today that they will be an exhibitor at National Association of Certified Valuators and Analysts (NACVA) & Consultants' Training Institute (CTI)'s Annual Consultants' Conference, taking place in San Diego, California, from June 8th to June 11th, 2016. The conference is the premier multidisciplinary gathering of business valuation and financial forensic analysts.
ktMINE's Brett Schoell, Business Development Manager, and Tessa Culbertson, Business Development Consultant, will be representing ktMINE in the exhibit hall at the conference. ktMINE's powerful database of over 100,000 license agreements and 60,000 royalty rates is used by business valuation and financial forensic professionals. The database contains global coverage across all industries and is easy to navigate.
2016 marks the 25th Anniversary of the Annual Consultants' Conference. It will serve as a forum where ideas, marketplaces, and people from around the globe intersect to explore concepts and share ideas to meet the demands of this dynamic and unpredictable economy. The conference will open with the Keynote Address from Steve Forbes, who will discuss the current economic situation and provide insights and strategic advice for business growth and success. Sessions will be categorized by Business Valuation, Healthcare, Financial Reporting, Exit Planning/ Mergers & Acquisitions, Financial Forensics/ Expert Witness, and Practice Management.
About ktMINE
ktMINE, headquartered in Chicago, IL, is an innovation and intangible asset information firm founded in 2008. Focused on mining, organizing and connecting the world's IP information, ktMINE provides businesses across the globe access to insights on industry players, technologies, and developments. For more information, visit http://www.ktmine.com, or contact ktMINE to schedule a meeting.