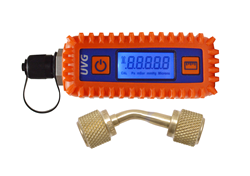 Quality Tools That Go To Work With You®
Fort Lauderdale, FL (PRWEB) June 10, 2016
The newest product from Uniweld's SmarTech™ line is the UVG Digital Vacuum gauge. It has a highly accurate sensor that provides precise vacuum readings on a large, backlit LCD display. The accuracy is 5% of Reading +/- 5 Microns. It is preloaded with several different measurements: microns, Pa, mBar, and mmHg. The UVG has a range of 0-25,000 Microns, 3330 Pa, 33.3 mBar, 25 mmHg and a resolution of 1 Micron (<1,000 Microns), .1 Pa, .001 mBar, .001 mmHg. Made to work in different environments, its operating temperatures are -10 °F to 122 °F (-12 °C to 50 °C). To eliminate false vacuum readings, the UVG has a built in oil sensor that indicates when the gauge needs cleaning. Simply rinse out the vacuum gauge with some alcohol and it will work like new. It is also capable of self-calibration with no reference needed and the sensor can withstand over pressurization up to 500 psi. The low energy consumption keeps the UVG working up to 100 hours on two 'AAA' batteries.
The UVG Digital Vacuum Gauge is packed with features, durable, and small enough to fit in your shirt pocket. The UVG comes with a ¼" F.F. brass adaptor, protective rubber boot, and (2) 'AAA' batteries. It works brilliantly with Uniweld's® Fast-Flo® Hose Set. The blue hose has an EZ Access T-Fitting™ built into the middle of the hose for convenient micron gauge connection. Using the ¼" F.F. brass adaptor included with the UVG, the vacuum gauge easily connects to the T-Fitting for an extremely accurate vacuum reading.
Used together, The Fast-Flo® Hose Set and the UVG work in perfect harmony. The UVG Digital Vacuum Gauge is a reliable tool that helps you work smarter, with SmarTech™.