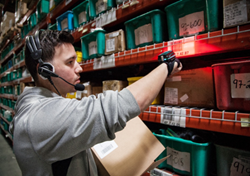 Chicago, IL (PRWEB) June 04, 2016
Numina Group is pleased to announce that their latest voice directed order fulfillment automation software is being demonstrated in booth 1928. Stop by to learn how Numina Group's order fulfillment automation software and technologies are driving large productivity increases for our customers, and improving distribution practices. Numina will be demonstrating cutting edge mobile computing that drives faster and more accurate order picking, including the ability to capture lot and serial codes. After picking, this technology can be combined with automated pack and ship labeling, to further reduce labor, material, and transportation costs, while significantly increasing productivity per man hour and throughput rates.
Numina's RDS™ (Real Time Distribution System) is a Top Tier Warehouse Execution and Control System (WES-WCS) containing all the software tools to efficiently manage and execute order fulfillment pick, pack, and ship processes. The order fulfillment software module includes RDS Voice™ which utilizes a highly advanced mobile computer for voice, directing the DC workforce. Orders are picked directly to the shipping carton with the use of Speaker Independent Voice Picking. This technology will be demonstrated at booth 1928. Stop by, put on a headset and learn why RDS Voice™ requires zero training, and drives 30% productivity gains even when deployed with a temporary work force.
RDS™ Voice Pick & Pick/Put to Light Automation

Speaker Independent Voice Picking requires Zero Training, including Labor Management & Productivity Tracking/Reporting
RDS™ Cartonization Software - Highest Cube Utilization Logic determines "Best Fit" Carton
Pick to Light and Pack to Light, fast, simple, and accurate
Pack Automation

Pick to Carton Reduces Touches in Packing
Slashes Pack Labor and Material Costs
Auto Print-Fold-Insert Shipping Documents
Semi-automatic or Fully Automated Void and Seal
Shipping and Manifesting

In motion Scan-Weigh-Dimensioning, Vision Audit, and Ship Verification
Print and Apply Labeling of Compliance, Packing Slips, and UPS, USPS, FedEx Shipping Labels
Automated Conveyor and Parcel, Pallet Build and Order Fulfillment Sorting Systems
RDS™ WES-WCS software is superior technology for implementing lean, highly productive voice directed automated operations for manufacturing and distribution. Additional order fulfilment modules and technologies powered by RDS™ include: vision inspection, in-line weighing/dimensioning, pack sheet print-fold-insert, print and apply labeling, conveyor controls, and sortation provide for a fully automated order fulfillment operation. RDS™ improves speed and accuracy to 99.99% in picking, kitting, receiving and replenishment in packing and shipping applications for productivity improvements across the entire operation.
Numina Group is also the industry leader in pack automation, supplying advanced Print-Fold-Insert (PFI™) technology to automate printing and insertion of multiple 8.5" x 11" laser printed packing sheets into variable height shipment cartons. PFI™ is part of a highly advanced family of Numina Group's print and insert, and/or print and apply labeling systems that automate packing and shipping applications. Print, fold and document insertion is supplied with conveyor systems and complementary technologies, including; in-line scan-weigh dimensioning, auto-taper sealers, and print and apply labeling, to automate Omni-channel, e-commerce, and other high volume pack and ship automation applications.
This year Numina Group has introduced two new RDS™ automation modules including RDS Web2 and V-PAS. Web 2 is a web-based reporting dashboard that provides real-time data, reporting, tracking, and diagnostics on mobile devices at speeds that were previously only possibly on desktop applications. RDS Web2™ runs on almost any device, including smartphones, tablets, and laptops with no installation apps or plugins required.
V-PAS™ (Vision Pack and Audit System) is a 3-dimensional camera used to detect carton content. V-PAS™ looks inside the carton, measures the carton void fill rate, and compares it to the target percentage based on the desired carton size and customer requirements. Underutilized or over-filled cartons, as well as incorrectly picked orders can be diverted to an inspection/repack lane.
The right software and technologies working together provide an outstanding return on investment through reduced labor, increased order accuracy and improved facility utilization.
##
About the Numina Group - Numina Group has over 30 years of experience in the design and implementation of automated warehouse and distribution centers. Numina Group's Real-time Distribution System, RDS™ is a top tier Warehouse Execution and Control System (WES-WCS) with an advanced order fulfillment automation module that delivers pick, pack, and ship process improvements for manufacturing and distribution operations. Numina Group provides a full range of services from consulting/design, voice directed picking, pack & ship order fulfillment automation, warehouse execution and control systems, conveyor systems, material handling and control for turnkey automated distribution operations. Their expertise eliminates bottlenecks and excessive labor while improving accuracy and throughput in order fulfillment. To learn more about Numina Group, visit their website at http://www.numinagroup.com.