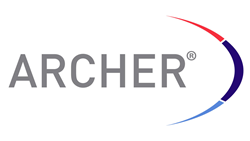 It was a natural progression to expand [Archer's] strategic alliance with Illumina and access their global sales channels
Boulder, Colorado (PRWEB) June 06, 2016
ArcherDX, Inc. today announced a co-marketing and distribution agreement with Illumina, Inc. (NASDAQ: ILMN). Under the terms of the agreement, Illumina will market and promote the Archer® FusionPlex® line of research products through its global commercial channels. Archer will continue to sell its products directly in the U.S., and Illumina will distribute the FusionPlex product line in international markets on a non-exclusive basis.
"Archer chemistry and analysis tools combined with Illumina next-generation sequencing (NGS) systems has become the new standard for the comprehensive detection of multiple classes of genetic alterations. We have successfully driven adoption of this best-in-class solution at the top cancer centers, reference labs and pharmaceutical companies. Archer's continued success is no longer a function of technology development, but is a matter of global commercial scale. It was a natural progression to expand our strategic alliance with Illumina and access their global sales channels," said ArcherDX CEO Dr. Jason Myers.
John Leite, Ph.D., Vice President of Market Development for Oncology at Illumina added, "We are pleased to be able to offer the FusionPlex product line to our customers. Our collaboration with ArcherDX continues to expand and is aligned with our mission to provide our customers with innovative solutions at the highest level of quality."
About ArcherDX
ArcherDX addresses the bottlenecks associated with using NGS in translational research by offering a robust platform for targeted sequencing applications. By combining proprietary Anchored Multiplexed PCR (AMP™) chemistry and easy-to-use, lyophilized reagents, Archer® NGS assays generate highly enriched sequencing libraries to detect gene fusions, point mutations, CNVs and RNA abundance. Complemented by the Archer suite of bioinformatics software, ArcherDX technology dramatically enhances complex mutation identification and discovery.