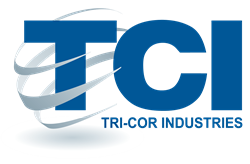 The creation of my new role as the Chief Technology and Strategy Officer will allow me help augment our employee centric innovation-friendly culture while developing TCI's strategy, to successfully navigate the future. - Venkat Chayanam
Alexandria, Virginia (PRWEB) June 15, 2016
TRI-COR Industries, Inc. (TCI), a leading provider of information technology services announced the appointment of Venkat Chayanam to the role of Chief Technology & Strategy Officer. Chayanam most recently served as the Vice President of Strategy and Chief Enterprise Architect.
TCI's CEO, Elizabeth El-Nattar said: "In today's market, technology is constantly changing and closely coupled with strategic innovations; therefore, strategy development has become a continuous process that requires rapid and effective decision making by a leadership team that live and breathes cutting edge technology. I trust that Venkat has the passion, knowledge, experience, perspective and perseverance to drive transformation as well as formulate and enforce consistent execution of our strategy."
Chayanam's role as the Chief Technology and Strategy Officer entails partnering with the CEO and the leadership team to drive the execution of vision and transformation, develop and execute strategic plan, drive strategic innovations and push the boundary on technology innovations and implementations to align with business strategy.
One of Chayanam's major accomplishments after joining TCI over a year ago was the establishment of TCI's second innovation lab in Alexandria, VA, to expand the application of bleeding edge technologies and development of cutting edge solutions that align with our customers' business and mission needs. At TCI's innovation labs, we closely align the R&D activities with our customers' strategic goals; therefore, enabling us to offer them low risk, advanced solutions at a reasonable cost. For more information on TCI's labs, please visit http://www.tricorind.com/press#innovationlab.
Venkat notes: "I've had the pleasure of working with TCI's amazing employees and management team in the past year, while mapping out TCI's long-term corporate vision and strategy …The creation of my new role as the Chief Technology and Strategy Officer will allow me help augment our employee centric innovation-friendly culture while developing TCI's strategy, to successfully navigate the future. I am honored to be working alongside our focused and committed teams to deliver value to our customers."
TRI-COR is a CMMI Level 3 Appraised Information Technology Services provider headquartered in Alexandria, VA, with offices in O'Fallon, IL; Fort Gordon, GA; Dayton, OH; Denver, CO; and Kansas City, MO.