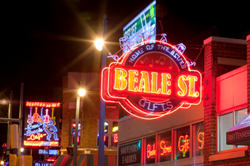 As Memphis is a city built and known for it's deep musical history, you can't expect anything less than good live music during the hot Summer months.
Memphis, TENN. (PRWEB) June 05, 2016
Whether traveling to Memphis or a local looking for something to do, here are eight fun and safe things to do things to do in the city this Summer:
1. Go to Beale Street
As both the Number One Tourist Attraction in the state of Tennessee and home of the nation's best blues music, Beale Street is easily the most iconic street in Memphis. Whether it's vacationing family, someone on a business trip, or a group on a bachelor/bachelorette trip, there's plenty to do on a trip to Beale Street. The club and restaurant scene are heavy
with live music, good food, and an overall fun, safe atmosphere.
Here's a list of all the different vendors that can be found on the street:
B.B. King's Blues Club
Beale Street Blues Gifts
Beale Street Tap Room
Black Diamond
Blue Note Bar & Grill, Inc.
Blues City Cafe
Blues City General Store
Club 152
Club Handy
Coyote Ugly Saloon
Dyer's Burgers
Eel Etc. Fashions
Flynn's Restaurant & Bar
Itta Bena
Jerry Lee Lewis' Cafe & Honky Tonk
Johnny G's Creole Kitchen
King Jerry Lawler's Hall of Fame Bar & Grille
Kingdom Kreations Spa & Salon
King's Palace Cafe
Memphis Music
Miss Polly's Soul City Cafe
Mr. Handy's Blues Hall
New Daisy Theatre
People's Billiards Club
Rum Boogie Cafe
Silky O'Sullivan's
Strange Cargo
Tater Reds
The Pig on Beale
Twelve Bar Balcony Bistro
Wet Willie's
2. Visit a Museum
With Memphis being one of the cultural hubs of the South, it's full of history. From moments in music history to civil rights, major events have happened here. If you're looking for something to do this Summer that takes you out of the heat and into a world of the past, you should visit one of Memphis' many museums. Out of the 25 you can choose from, here are 6:
Graceland
Memphis Music Hall of Fame
Memphis Brooks Museum of Art
The National Civil Right Museum
Stax Museum of American Soul Music
Metal Musuem
3. Take a Stroll Through the Zoo
The Memphis Zoo is one of the Mid-South's largest and most interactive zoos. Not only do they have 18 different exhibits, but their newest, The Zambezi River, has visitors from all over flocking to the park. A day trip to the zoo is fun for families and friends.
4. Go on a Group Tour
A walking tour is a great way to see and learn the history of a city. Walking guides will not only take tourists through some of the most historical sites of the city, but they'll also entertain you the whole way. There are even some companies that offer ghost tours to tourists, taking them to some of the said most haunted sites in downtown Memphis, like the famous bar Earnstine & Hazel's.
Another popular tour to take is a party bike tour. The local pedal tours take groups through both the Midtown/ Overton Square and Main Street/ downtown areas of Memphis. Groups saddle up on a giant bicycle, each equipped with its own pedals, and can drink and socialize while seeing some of the most popular attractions in Memphis.
5. Party at The Peabody
The Peabody is the inarguably one of the most famous hotels in downtown Memphis, known for its parade of ducks, a tradition that dates back to 1933. And every Thursday during the Summer, they open up their doors to locals and tourists alike to trek up to their rooftop terrace that overlooks the downtown skyline and Mississippi River for an unforgettable party. With live music and drinks, The Peabody Rooftop Parties have been named among the "Top 10 Rooftop Bars."
6. See Some Live Music
As Memphis is a city built and known for it's deep musical history, finding live music, especially in outside venues, during the hot Summer months is quite easy. In June, The Levitt Shell, an outdoor amphitheater in Overton Park in Midtown, begins its free Summer Concert Series where people can lay out blankets, bring their own coolers, and set up for the night to outside to listen to music. You can also find live music in nearly every neighborhood in town. From blues on Beale Street and rock-n-roll at Minglewood Hall to smaller bands at restaurants like Young Avenue Deli in Cooper Young, walking into Memphis is like stumbling upon a stampede of sound.
7. Go to a Ball Game
Memphis has housed the official MiLB team of the St. Louis Cardinals, the Memphis Redbirds, since 1998. Played right in the heart of downtown at AutoZone park, tickets start at only five dollars and guarantee a day of good fun, food, and drinks. Along with the typical game-day eats, around almost every corner of the stadium is a fresh Memphis BBQ stand. And on Saturday nights in the Summer, the Redbirds release a rocking fireworks shows to the tune of different music genres and themes.
8. Walk Down the Mighty Mississippi
Lastly, for a nice walk with good scenery, there's always Tom Lee Park which expanses a pathway right alongside the Mississippi River downtown. And at the end of the park, there's Beale Street Landing, which houses Memphis' Authentic American Riverboat Cruises. Cruises down the River can last anywhere around two hours and are great for singles, families, and groups alike.
All in all, whether it's a fun restaurant in Midtown, a blues band on Beale Street, or a visit to the animals at the Zoo, it's guaranteed there will be something fun to do in Memphis this Summer.