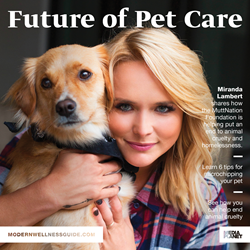 (PRWEB) June 04, 2016
With the support of celebrities, thought leaders and top industry organizations like Whistle – the creator of the award-winning Whistle GPS Pet Tracker, this campaign educates and inspires readers to take the necessary action to ensure all animals in the United States receive the vital care that is their right.
1 in 3 pets will go missing in their lifetime.
Each year 7.6 million pets entering shelters. Whistle has debuted its flagship product, Whistle GPS Pet Tracker, to help address this issue. It combines the best on-collar GPS tracking device with a simple mobile app to put your pet's health needs and location right at your fingertips. The Whistle GPS Pet Tracker is also the first device and app system to combine location-tracking and smart activity monitoring into one simple experience. Individual pet information is stored in the Whistle app and can be shared by pet owners with their veterinarians and other caretakers, like dog walkers and pet sitters, to keep everyone on the same page. Whistle combines seamless communication with advanced tracking to make proactive pet care easier than ever before.
The print component of "Future of Pet Care" is distributed within today's edition of the LA Times, with a circulation of approximately 455,000 copies and an estimated readership of 1.4 million. Nationally, the digital component is distributed through a vast social media strategy and across a network of top news sites and partner outlets.
About Whistle
Whistle is the pet brand born out of a love for pets. Founded in 2012 by Ben Jacobs and Steven Eidelman, Whistle is on a mission to equip pet owners with simple tool that helps them stay connected to their pets from anywhere. The flagship product, Whistle GPS Pet Tracker, combines best in breed location tracking with activity monitoring, to offer the 150 million pet parents in the U.S. peace of mind about their best friends. For more information about Whistle visit [http://www.whistle.com or http://www.facebook.com/whistlelabs or http://www.twitter.com/whistlelabs.
About Mediaplanet 
Mediaplanet is the leading independent publisher of content-marketing campaigns covering a variety of topics and industries. We turn consumer interest into action by providing readers with motivational editorial, pairing it with relevant advertisers and distributing it within top newspapers and online platforms around the world.