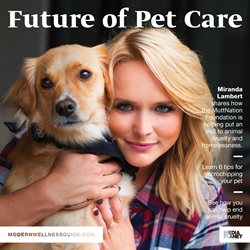 Our goal is to help bring awareness to rescues and improve shelter pets' quality of life
New York, NY (PRWEB) June 04, 2016
Today, an estimated 80 million homes in the Unites States are occupied by a pet. That being said, it is imperative for pet owners to know how they can keep their furriest family member as healthy as possible.
Country music star, Miranda Lambert, graces the cover of the print publication. Through an exclusive interview with Mediaplanet, she opens up about her mission to end animal cruelty and find pets the loving homes they deserve. "Our goal is to help bring awareness to rescues and improve shelter pets' quality of life," Lambert explains. Through her MuttNation Foundation, Miranda and her mother help animals nationwide through spay and neuter campaigns, mill rescues, adoption events, medical treatments and much more. The number one message she hopes everyone, especially potential pet owners, hears is: "Don't be afraid to visit, volunteer or adopt from your local shelter. They are great places, and nothing is more fulfilling than knowing you showed love to an innocent soul that needed love."
The print component of "Future of Pet Care" is distributed within Saturday's edition of the LA Times with a circulation of approximately 455,000 copies and an estimated readership of 1.4 million. The digital component is distributed nationally through a vast social media strategy and across a network of top news sites and partner outlets. To explore the digital version of the campaign, click here.
This edition of "Future of Pet Care" was made possible with the support of the American Pet Products Association, Pet Leadership Council, Found Animals Foundation, Best Friends Animal Society, ASPCA, SureFlap, Whistle, Pet Food Institute, VIP Pet Care, HealthyPet, Miranda Lambert, Brandon McMillan and many more.
About Mediaplanet
Mediaplanet is the leading independent publisher of content-marketing campaigns covering a variety of topics and industries. We turn consumer interest into action by providing readers with motivational editorial, pairing it with relevant advertisers, and distributing it within top newspapers and online platforms around the world.