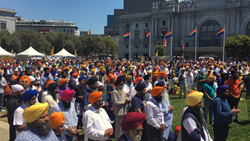 San Francisco, California (PRWEB) June 06, 2016
Thousand of Sikhs marched in San Francisco today to commemorate the 32nd anniversary of attack on the Golden Temple, the most sacred Sikh shrine of Sikhs, by the Indian government in June 1984.
For the last three years, thousands of Sikhs have paraded in San Francisco to show their strength against India's suppression on minorities and violation it's own constitution for not providing 'Freedom of Religion" rights.
The event is organized by Fremont Gurdwara and major Gurdwaras of California. The Sikh Parade started at 2nd and Market Street at 12 p.m. June 5th and concluded at Civic Centre Plaza at about 1:30 p.m. Following the parade, there were speeches and video presentations at Civic Center Plaza which featured community invited speakers from around the world including Canada and India.
The storming of the Golden Temple, codenamed Operation Blue Star invasion of the Darbar Sahib in Amritsar, India, popularly known as the Golden Temple. Thousands of innocent worshipers lost their lives in a premeditated massacre when troupes and tanks invaded and holiest of Sikh shrines on the 387th commemoration anniversary of the martyrdom of Fifth Guru Arjun Dev, 5th Guru of Sikhs. He sacrificed his life in 1606 to protect the 'Freedom of Religion' rights especially for Hindus under Mughal Emperor. He is known as "Father of Freedom of Religion".
During the struggle of Indian Independence, Hindu leaders promised to Sikhs to offer full Freedom to exercise their religion. Sikhs decided to align with Hindu majority in this struggle. But Sikhs were betrayed and Hindu India never fulfill it's promises after it got its independence from British. On the More than 150,000 Indian army troops, equipped with helicopter gunships and tanks were sent to attack on Golden Temple.
"The army went into Durbar Sahib (the Golden Temple complex) not to eliminate a political figure or a political movement, but to suppress a culture of a people, to attack their heart, to strike a blow at their spirit and self-confidence," says Joyce Pettigrew, Scholar in Anthropology.
"Historically, Sikhs had one of the most powerful kingdoms in the world throughout the 19th century under Maharajah Ranjit Singh," says Pettigrew. "When the British occupied it in 1849 after his death, Sikhs decided to part with India in 1947 when the British offered India independence. But after the attack of 1984, Sikhs again started fighting for their homeland."
Sikhs started their struggle for Freedom more openly and aggressively since this attack in 1984. Every year, Sikhs all over the world marched this week to pledge for their Freedom to have an independent homeland i.e Khalistan.