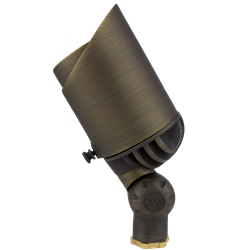 The fixture needs to be engineered to pull out the heat. That's what we did with the AccentPro™.
Tampa, FL (PRWEB) June 07, 2016
AMP® Lighting, a fast-growing landscape lighting manufacturer, announces the introduction of the AccentPro™ MR16 Spotlight. This new luminaire was engineered to extend the life of its light source – LED MR16 lamps – satisfying a growing concern about the viability of LEDs in enclosed fixtures.
Michael Caselnova, Jr., Director of Product Development, explains the challenge, "The entire lighting industry is rushing to put LEDs in every type of light. But it's often the case that producers fail to recognize that LEDs are very heat sensitive. You can't just put an LED lamp in an enclosed fixture and expect a good result. The fixture needs to be engineered to pull out the heat. That's what we did with the AccentPro™."
Caselnova is referring (in part) to the uniquely shaped fins on the back of the luminaire. They increase the surface area of the cast brass metal to accelerate heat transfer. This allows the consumer to put much brighter LEDs into the fixture without creating excessive heat build-up.
As explained on the company's website, the AccentPro™ also features extra measures to prevent water from entering the fixture. And, an adjustable glare guard to precisely control where light is projected. The luminaire also features a lifetime warranty - a departure from other lighting manufacturers who guarantee their lights for a limited number of years.
Prior to launching the AccentPro™, all other AMP® spotlights were 'integrated' – meaning the LEDs are mounted on a circuit board secured to the fixture body. There are several advantages to integrated LED luminaires (see AMP ControlPro™ LED Spotlights), but some designers still prefer to use interchangeable lamps. It was for these designers that the AccentPro™ was developed.
Caselnova goes on to explain how the new line of AMP LED MR16 lamps complements the operation of the new spotlight. "We actually engineered the AccentPro™ to be the optimal fixture for our line of LED lamps. We made sure they were a perfect match in terms of fit and performance. We feel great confidence in applying a lifetime warranty for both the fixtures and the lamps."
AMP® Lighting continues an aggressive program of product development intended to meet the needs of their professional landscape lighting customers.
About AMP® Lighting
AMP® Lighting is dedicated to supporting the success of landscape lighting professionals. With durable, high-performance products, exceptional customer support, and direct-to-professional pricing, AMP® Lighting is a great alternative to distributor-based manufacturers. For more information, go to http://www.amplighting.com/pro or call 813-978-3900.