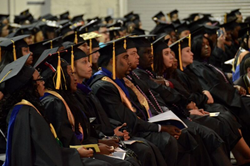 In addition to students from the U.S., Puerto Rico, and the U.S. Virgin Islands, members of the Monroe College Class of 2016 represented 41 countries.
Bronx, NY (PRWEB) June 06, 2016
Monroe College, a national leader in educating urban and international students, held its 83rd annual commencement yesterday at New York's Jacob K. Javits Convention Center. The Honorable Kathie E. Davidson, Supervising Judge of the 9th Judicial District Family Courts, and Gustavo Rivera, New York State Senator for the 33rd District, were the keynote speakers.
Two separate ceremonies were held to accommodate the families and friends of the 2,700 students receiving Associate, Bachelor's or Master's degrees and professional certificates. Stephen J. Jerome, President of Monroe College, and Marc Jerome, Executive Vice President, welcomed students and their families with opening remarks.
The afternoon ceremony was held for 1,478 students completing programs of study for the School of Criminal Justice, School of Business and Accounting, School of Education, and School of Information Technology. Janet Flowers, a faculty member in the School of Business and Accounting, served as Grand Marshal of the processional. During her commencement address, Judge Kathie E. Davidson encouraged the graduates to pursue their passion, find purpose, and develop into instruments of change as "social engineers."
Francesca Lovecchio, a valued member of Monroe's staff for the last 28 years, led the processional as Grand Marshal for the evening ceremony, which conferred degrees on 1,222 students from Monroe's School of Allied Health, School of Nursing, School of Hospitality Management and the Culinary Arts, and King Graduate School. In his commencement address, New York State Senator Gustavo Rivera spoke about the intersections of privilege, opportunity, and obligation, noting the importance of giving back to community.
In addition to students from the U.S., Puerto Rico, and the U.S. Virgin Islands, members of the Monroe College Class of 2016 represented 41 countries, including sizable contingents from the Bahamas, Bangladesh, Dominica, the Dominican Republic, Ecuador, India, Israel, Jamaica, Japan, Mali, Nigeria, South Africa, St. Lucia, and Vietnam. The College conferred 253 Master's degrees; 1,197 Bachelor's degrees; and 1,212 Associate degrees during the commencement ceremonies, as well as awarded 38 professional certificates.
ABOUT MONROE COLLEGE
Founded in 1933, New York-based Monroe College is a nationally ranked private institution of higher learning with a real world learning approach that prioritizes hands-on academic experiences, practical and relevant academic programs, flexible learning schedules, best-in-class instructional technologies, and committed and engaged faculty to ensure that students are well positioned for career success upon graduation. Monroe College graduates more minority students than any other college in New York State.
Monroe College offers Certificate, Associate, Bachelor's, and Master's degree programs. It has campuses in the Bronx, New Rochelle, as well as in the Caribbean nation of St. Lucia, with programs offered through its Schools of Criminal Justice, Information Technology, Nursing, Education, Business & Accounting, Hospitality Management and Culinary Arts, and Allied Health Professions, as well as through its liberal arts and continuing education programs, and its King Graduate School. For more information and admissions criteria, please visit http://www.monroecollege.edu