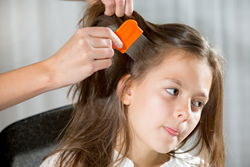 Lice are getting stronger, but that doesn't mean we need stronger chemicals, just a better method.
Miami, Florida (PRWEB) June 07, 2016
As super lice, the highly resistant strain of head lice, are beginning to rear their heads in the Europe, the pressure is on for scientists and manufacturers to develop stronger pesticides. Currently, head lice affects 6-12 million individuals in the United States each year. But as the lice get stronger and more resistant, that number is expected to increase.
While overuse of pesticides has led to the problem of resistant strains, according to Cosmetics Design Europe, climate change may also be playing a role in their proliferation, as warmer winters and rainier springs have helped keep their numbers strong.
While the medical and scientific communities will continue to seek stronger chemicals, all-natural services like Lice Troopers in Miami caution parents against the use of pesticides on their children's heads. The long-term effect of these treatments is unknown, and short-term side effects can include rashes and skin irritation, respiratory conditions and seizures.
Lice Troopers, like the National Pediculosis Association, favor the combing method. While this is a highly effective way of getting rid of super lice, it is time consuming and tedious for parents who may be inexperienced in the task. For this reason, many parents opt for professional treatment.
However, Lice Troopers, recognizing the demand among parents to handle the problem at home, has recently released a line of home lice removal products. Unlike over-the-counter drugstore treatments, these products are safe for children of all ages and help facilitate the comb out method at home.
Said Lice Troopers owner and operator, Arie Harel, "We know lice are getting stronger, but that doesn't mean we need stronger chemicals, just a better method. With our new line of products, parents can now handle the lice problem at home—effectively and safely. Those who would rather have a professional take care of it can get an appointment at one of our clinics and be lice free the same day."
As climate change continues to bring warmer winters, parents can expect a rise in head lice cases and should be aware of their options before the infestation hits home.
Lice Troopers is the all-natural, guaranteed Head Lice Removal Service™ that manually removes the head louse parasite safely and discreetly in child-friendly salon settings, or other chosen location. Providing safe solutions for frantic families, the Lice Troopers team has successfully treated thousands of families nationwide, with services widely recommended by pediatricians and reimbursed by many major health insurance carriers, flexible spending accounts and health savings accounts.