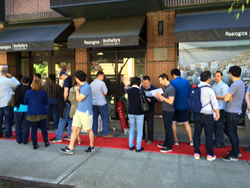 (PRWEB) June 06, 2016
The Burrard Group has accepted 244 first-position, unit-specific reservations for priority presales at NEXUS, a new 374-unit high-rise condominium tower located at 1200 Howell Street in downtown Seattle. Project representatives at Realogics Sotheby's International Realty (RSIR) report that more than 500 prospective homebuyers were processed through the NEXUS Preview Center at 2715 1st Avenue on June 4 and 5th. Several groups camped out overnight to ensure a first place in line while a crowd of approximately 130 were queued up by 11am on June 4th when the reservation event commenced. Prospective homebuyers were offered an individual home for priority presale with a price range for a $5,000 fully-refundable deposit to be held in escrow. Reservations will convert to a Purchase and Sale Agreement during the Fall of 2016, commensurate with the opening of a formal sales center and the ground-breaking of the development. NEXUS is scheduled for occupancy by mid-2019.
"Our opening weekend results suggest a growing preference for condominium ownership after an unprecedented apartment cycle that added nearly 10,000 new rental units to our skyline," says Dean Jones, President and CEO of RSIR, the firm representing NEXUS. "Those apartment towers have been incubating future homebuyers who are increasingly recognizing the investment potential and benefits offered by homeownership. NEXUS provides an opportunity to own a slice of this fast-growing metropolis."
Jones refers to this northeast corner of downtown Seattle as the "East Village" where he's tracking more than 25 new development projects representing investment in excess of $6 billion - comprising 10,000 new housing units (mostly apartments), 2 million square feet of office space, 185,000 square feet of retail, 1,900 new hotel units and the $1.4 billion expansion of the Washington State Convention Center. A virtual tour of the future skyline called Cityscape 2020 can be experienced online at http://www.NEXUSseattle.com.
"NEXUS is turning heads and changing mindsets at the same time," says Michael Cannon, Community Sales Director for NEXUS and a broker with RSIR. "Our reservation holders are current renters, move up buyers from other condominiums, as well as downsizing empty nesters and families setting up a second home, student housing, investments and retirement plans. It's a diverse mix."
Cannon says all buyers are drawn to the development's front and center location within a walkable neighborhood on the rise with immediate access to I-5 and the expanding light rail system by Sound Transit. He says consumers recognize how traffic-congested Seattle is becoming and they desire the flexibility of commuting options.
According to Cannon, the 244 unit reservations included all 60 units that did not include parking stalls as well as 32 units that will share unassigned "Flex Parking" (shared parking coordinated by a custom app). Every other home reservation included at least one parking stall with a second stall available for larger homes. Reserved homes were distributed across product type, from efficiently planned studios and open one bedrooms priced from the low $300,000s, up to expansive two-story Skylofts and penthouse unit combinations valued at more than $3 million.
"Our tremendous market response to date suggests that NEXUS is exposing some pent up demand for high-design, attainably priced homes," said Christian Chan, Executive Vice President of Burrard Group, the developer of NEXUS. "Seattle is truly becoming more and more like the Manhattan of the West Coast, where consumers can live, work and play within an urban context and many will prefer a lifestyle without the burden or expense of a car."
According to the NWMLS, the median home price of a condominium in May 2016 rose 41% year-over-year to $565,000, and that's before several hundred new construction condominiums are set to close over the next several months. Meanwhile, the S&P/Case-Shiller Home Price Index reports that the Seattle metro area has now set a new benchmark for median home prices, surpassing the previous peak set in July 2007. The US Census Bureau confirms that Seattle is now fourth for growth among the 50 fastest-growing big cities in the nation. Many new residents will prefer to rent initially, which has driven demand and spiked average rents by more than 40% since 2010 in downtown Seattle, according to analysis by O'Connor Consulting Group.
Rising home prices breed confidence for homebuyers. A joint report by RSIR and Caliber Home Loans revealed that it can now be significantly less expensive to own a condominium than it is to rent a similar apartment after only a few years once factoring in all the costs and benefits. The study found that a 650-sq. ft. one bedroom priced at $568,750 with a 5% down payment and prevailing interest rates, HOA dues and taxes had a cumulative housing cost of $106,236 over three years (with income tax deductions considered). When adding a reasonable 5% equity gain for years two and three, however, the effective cost was really only $47,939. This compares favorably to a rental scenario where the deposits and rents totaled $104,033 over three years and there was no opportunity for income tax deductions or equity gains. The study assumed that median home prices and rents rose at 5% per year.
With many renters choosing homeownership amidst anemic inventory, bidding wars have become a frustrating reality in the Seattle metro area. Redfin recently reported that multiple offers occurred on 78% of the transactions in April 2016 resulting in 56% of the homes selling above asking price, which is more than twice the national average. Seattle trails only behind the Bay Area on either index nationally, and many pundits believe downtown Seattle is becoming more and more like San Francisco – expensive.
"A primary benefit of our reservation process is buyers are assured they are in first position to accept a purchase and sale agreement without multiple offers," adds Jones. "We are observing a very consumer-friendly sales process so our homebuyers can plan ahead with confidence."
###
About Burrard Group (http://www.BurrardGroup.com) - The Burrard Group has been consistently creating quality residential communities for 25 years, and has built a diverse portfolio of master-planned communities, multi-family developments, high-end single family residences and resort lodging properties throughout Pacific Rim gateway markets.
About Realogics Sotheby's International Realty (http://www.RSIR.com) - The Realogics Group of Companies and theSotheby's International Realty network combine to create the Pacific Northwest's leading, full-service project marketing and resale brokerage with more than $2 billion in condominium sales experience in downtown Seattle spanning more than 20 years.
Editors Notes: For high-resolution photography contact Andrea Savage at 206.448.5752 or email Andrea(dot)Savage(at)RSIR(dot)com.