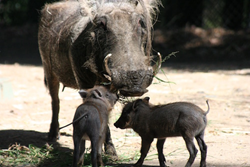 We are thrilled to have two litters of healthy piglets! Both sows, 'Frenchie' and 'Alice' are first time moms, and are doing a wonderful job and being very protective - Keeper Livelong Cahill
Oakland, CA (PRWEB) June 06, 2016
Almost three years ago, female warthogs Frenchie and Alice were brought to Oakland Zoo in hopes of a 'love connection' with Simon – the Zoo's resident male. It took a little while but Simon has proven himself quite a catch – Alice and Frenchie have both given birth to litters exactly one week apart.
Frenchie birthed the first litter of three on May 6, and days later the second litter of four piglets was born to Alice on May 13 – both sows are also first-time moms. Zookeepers have been readying for the piglets' arrival for months, via closed circuit cameras in the animals' night house dens and continue to monitor the maternal care and the developmental milestones of the piglets.
"We are thrilled to have two litters of healthy piglets! Both sows, "Frenchie" and "Alice" are first time moms, and are doing a wonderful job and being very protective. All seven piglets are just now beginning to explore their surroundings under the watchful eyes of their moms and keepers," Lovesong Cahill, Senior Zookeeper.
Zookeepers worked very hard preparing for the births by making changes to the warthogs' night houses and exhibit; including modifying denning boxes to receive central heating, piglet-proofing gates and other areas the piglets will have access to, and monitoring the pregnancy progress through positive-reinforcement training. This training resulted in one of the mothers allowing ultrasound imaging of her piglets in utero.
https://www.dropbox.com/sh/sdcv5j2ohux9pd6/AACmOqv4Gk6851p7UmjRNygua?dl=0https://www.dropbox.com/sh/sdcv5j2ohux9pd6/AACmOqv4Gk6851p7UmjRNygua?dl=0
Over the next couple months, either litter may or may not be visible on exhibit, depending on socialization and the piglets becoming accustomed to the exhibit.
Warthogs typically birth two to three piglets complete with tusks to jockey for the best nursing position. The piglets, covered in a sparse coarse fur, are quite mobile soon after birth, but remain in the den for 10-20 days. They will wean from the sow at about three months old. Both sexes are born with the characteristic 'mutton chops', but males are easily determined by 'warts' that are visible at birth. Both sexes eventually develop 'warts', but boars display the most obvious protuberances of thick fleshy pads below their eyes and above their tusks, which protect their face when competing for females. None of the piglets have been sexed yet as Zookeepers are keeping their distance to allow the dams and piglets their privacy.
"Whenever animals breed at the Zoo, we plan not just for the health of the newborns and a great start to their life, but we also work with our animal expert colleagues at AZA accredited zoos across the country to plan for the often arduous task of social introductions," said Darren Minier, Zoological Manager at Oakland Zoo.
The decision to breed our warthogs is based on a rigorous process with other AZA (Association of Zoos and Aquariums) accredited Zoos, through a program called the SSP (Species Survival Plan), which tracks the genetics of individual animals, the social, environmental and health needs of each, and the overall needs of the population in zoos. The goal is to assure the best in welfare for each animal and the population as a whole.
###
ABOUT WARTHOGS: Warthogs have been known to live into their mid to late teens in captivity. They are found in sub-Sahara Africa, in the grassland and savannah habitats. Typically, these animals are seen eating, sleeping, and wallowing in the mud. They will rest frequently during the afternoon hours. Warthogs are in the pig family and can make the grunting and squealing sounds associated with that type of animal. When greeting one another through the fence or on exhibit, they make what is described by zookeepers as a low repetitious grunt. Gestation period is approximately 170 days. Sows typically birth two-four piglets, each weighing about 6 pounds. Piglets will nurse up to four months of age, and become independent at six months.
ABOUT OAKLAND ZOO:
The Bay Area's award-winning Oakland Zoo is home to more than 660 native and exotic animals. The Zoo offers many educational programs and kid's activities perfect for science field trips, family day trips and exciting birthday parties. Oakland Zoo is dedicated to the humane treatment of animals and wildlife conservation onsite and worldwide; with 25¢ from each ticket donated to support conservation partners and programs around the world. The California Trail, a transformational project that more than doubles our size, opens in 2018,
and will further our commitment to animal care, education, and conservation with a focus on this state's remarkable native wildlife. Nestled in the Oakland Hills, in 500-acre Knowland Park, the Zoo is located at 9777 Golf Links Road, off Highway 580. The East Bay Zoological Society (Oakland Zoo) is a nonprofit 501(c)3 organization supported in part by members, contributions, the City of Oakland and the East Bay Regional Parks. For more information, go to: http://www.oaklandzoo.org