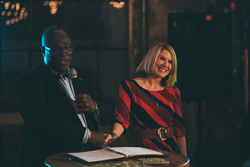 Home. Where I live. Where I eat. Where I play. Where I learn. It's like nowhere else in the world. Your city gives you the "feels." That's what Emoji My City captures - Emily Elmore, Founder
Kansas City, Missouri (PRWEB) June 07, 2016
Launching in Kansas City, Mo., the unique Kansas City keyboard will give users the stickers, emojis and GIFs that they didn't know they needed. From a whimsical pig celebrating KC's elite barbecue status to a mod interpretation of the Shuttlecock sculptures at the Nelson-Atkins Museum of Art, anyone who lives in or loves KC will want to add this app to their social lexicon.
With this app, Kansas City brands are no longer limited to reaching consumers with one-and-done branded content, like T-shirts or posters. Instead, the Emoji My City keyboard makes Kansas City brands conversational content that consumers will want to engage with and share. The Kansas City keyboard will help build brand awareness as an element of broader marketing campaigns, and as a high-impact way to emotionally connect with the Kansas City community. Emoji My City will be offering a few select small local Kansas City businesses their very own custom emoji on the emoji app keyboard which will be available to the public by mid summer.
Designed locally by Single Wing Creative, the app-based keyboard will be developed by Swyft Media (the same developer behind the Popemoji keyboard and Ford Motor Co. sticker campaign). The app, which performs like other emoji keyboards, will be available in iTunes and Google Play stores. Emoji My City stickers will also be available on various popular messaging sites, including Kik, Viber, Tango and Skype, each of which has hundreds of millions of users. Though these apps alone, the stickers will be downloaded by more than 160,000 users in 2016.
Next up for Emoji My City: the connection between Kansas City and Las Vegas lives on as we roll out emojis, stickers and GIFs for the city where anything goes.
Emoji My City serves a niche that has yet to be tapped. Each city is unique, what better way to show your community spirit than through the perfect emoji.
About Emoji My City: The emoji app helps Kansas City and KC advertisers take part in a popular and fast-growing conversation tool by creating and distributing branded content that local consumers want to use and share with friends.
By partnering with Swyft media, Emoji My City has one of the largest opportunities for Kansas City brands to reach young consumers in a way that feels natural and unobtrusive. For more information, visit: http://www.em.city or follow us on Twitter, Facebook, Snapchat and Instagram @emojimycity