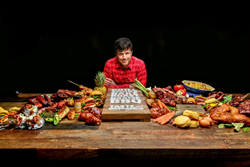 I love what I do and am honored to be recognized by EY. Building Traeger every day has been such an incredible experience." - Jeremy Andrus, CEO of Traeger Grills
Salt Lake City (PRWEB) June 06, 2016
EY announced that CEO, Jeremy Andrus of Traeger Grills, Creator of the Original Wood Pellet Grill, has received the EY Entrepreneur Of The Year® 2016 Award in the Consumer Distribution & Manufacturing category for the Utah Region. EY Entrepreneur Of The Year is the world's most prestigious business award for entrepreneurs. The award recognizes outstanding entrepreneurs who demonstrate excellence and extraordinary success in such areas as innovation, financial performance, and personal commitment to their businesses and communities. Andrus' award was presented at a gala event at The Grand America Hotel on June 4, 2016.
"I love what I do and am honored to be recognized by EY. Building Traeger every day has been such an incredible experience. Of course I couldn't do it without an entire team of individuals who care about the brand as much as I do. They are truly the best collection of entrepreneurs I have ever worked with, and I continue to be impressed by how they push the boundaries to create amazing products that enrich the lives of our customers," said Jeremy Andrus, CEO, Traeger Grills.
Andrus joined Traeger Wood Fired Grills as President & CEO in January 2014 and acquired the business alongside private equity fund Trilantic Capital Partners in July of that year. Prior to Traeger, he served as the President and CEO of Skullcandy as well as on its board of directors. In eight years, Andrus helped grow Skullcandy's annual sales from less than $1 million to nearly $300 million. He currently sits on the boards of directors for Wilson Electronics, PurePredictive, and TrueGreece, as well as investment committees for Kickstart Seed Fund and University Venture Fund. He volunteers on the loan committee for microfinance agency International Rescue Committee and on the advisory board for Utah refugee youth soccer club Break Through Soccer. Andrus received his M.B.A. from Harvard Business School and B.A. from Brigham Young University. He lives in Salt Lake City with his wife Kristin, their four daughters and twin boys.
Since 1986, EY has honored entrepreneurs who are job creators, risk takers, and standout innovators who inspire us all to build a better future. These leaders demonstrate ingenuity and their discipline has propelled the success of their companies, invigorated their industries, and benefited their communities. Now in its 30th year, the program has honored the inspirational leadership of such entrepreneurs as Howard Schultz of Starbucks Coffee Company, Robert Unanue of Goya Foods, and Mindy Grossman of HSN. Recent US national winners include Reid Hoffman and Jeff Weiner of LinkedIn; Hamdi Ulukaya, founder of Chobani; and 2015 winners Andreas Bechtolsheim and Jayshree Ullal of Arista Networks.
As a Utah Region award winner, Andrus is now eligible for consideration for the Entrepreneur Of The Year 2016 national program. As the first and only truly global award of its kind, Entrepreneur Of The Year recognizes them through regional, national and global awards programs in more than 145 cities in more than 60 countries. Award winners in several national categories, as well as the Entrepreneur Of The Year National Overall Award winner, will be announced at the Entrepreneur Of The Year National Awards gala in Palm Springs, California, on November 19, 2016. The awards are the culminating event of the Strategic Growth ForumTM, the nation's most prestigious gathering of high-growth, market-leading companies. The US Entrepreneur Of The Year Overall Award winner then moves on to compete for the World Entrepreneur Of The Year Award in Monaco, June 2017.
Founded and produced by EY, the Entrepreneur Of The Year Awards are sponsored nationally by SAP America, Merrill Corporation, and the Ewing Marion Kauffman Foundation. In the Utah Region, sponsors also include Beehive Startups, The Community Foundation of Utah, Corporate Alliance, Digital Bytes Production & Design, Diversified Insurance Group, Raymond James Financial Services, Inc., Strong & Hanni, The Summit Group Communications, and Utah Business.
About Traeger Grills
Traeger Grills, headquartered in Salt Lake City has been revolutionizing BBQ grilling and outdoor cooking for over 30 years with one simple, all-encompassing cooking solution. Traeger pellet grills use 100 percent all natural hardwood fuel to infuse food with healthy and flavorful smoke, this makes food taste delicious and memorable. As the inventor of the original and world's top selling wood-fired grill, Traeger utilizes wood-fired convection air to provide 6-in-1 versatility; grill, smoke, bake, roast, braise, and BBQ meals to perfection every time. For an innovative cooking solution, visit http://www.traegergrills.com for more information.