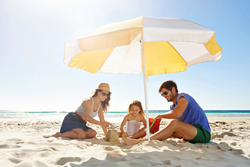 LINCOLN, R.I. (PRWEB) June 07, 2016
Summer is the perfect time to be outside, whether it's heading to the beach, having a cookout or simply sitting by the pool. But it's important to consider sun safety, and Amica Insurance is sharing some tips to help keep you and your family protected.
According to the Centers for Disease Control and Prevention (CDC), UV rays can damage skin in as little as 15 minutes. Amica is offering the following tips from the CDC:

Seek shade under an umbrella, tree or other shelter whenever you need relief from the sun.
When possible, wear long-sleeved shirts and long pants and skirts for extra protection from UV rays. Clothes made from tightly woven fabric provide the best protection.
Wear a hat with a brim that shades the face, ears and back of the neck.
Wear sunglasses to protect your eyes from UV rays and reduce the risk of cataracts. They also help protect the tender skin around the eyes.
Put on sunscreen with at least SPF 15 before going outside, even if it's slightly cloudy or cool. Be sure to put a thick layer on any exposed skin, and get help for hard-to-reach places like your back.
About Amica Insurance
Amica Mutual Insurance Co., the nation's oldest mutual insurer of automobiles, was founded in 1907. The company, based in Lincoln, Rhode Island, is a national writer of auto, home, marine and umbrella insurance. Life coverage is available through Amica Life Insurance Company, a wholly owned subsidiary. Amica employs more than 3,400 people in 44 offices across the country. For more information, visit Amica.com.
Media inquiries can be sent to MediaCenter(at)amica(dot)com.
Twitter: Amica
Facebook: Amica Mutual Insurance Co.