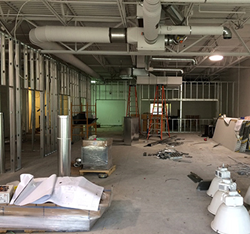 We are thrilled to have a new space that will allow us to maintain our reputation as an industry leader.
Dublin, Ohio (PRWEB) June 08, 2016
Since the beginning of a large-scale expansion in late February, Safeware's Dublin headquarters has seen tremendous changes in a short period of time. With the addition of Safeware's new corporate service and training center, the leading provider of product protection and warranty solutions, will now also benefit from an in-house video production studio and hands-on learning facility.
The new space houses Safeware's call center, training, quality assurance, and network development teams in addition to various collaborative meeting spaces. Technology is a driving force behind this addition, with large digital displays in the call center space and mobile devices readily available for training and professional development opportunities.
"By investing in our service capabilities and creating an innovative space for learning and professional development, Safeware's Solution Center will continue to thrive," says Safeware's CEO, Bryan Schutjer. "Safeware is growing quickly and we are thrilled to have a new space that will allow us to maintain our reputation as an industry leader."
An added highlight to the space will include a series of "super-graphics" that profile Safeware's commitment to help its customers "Own with Confidence™" the products they purchase every day. Safeware will be hosting an open house and ribbon cutting ceremony for its associates, clients, partners and select community members later this month to celebrate the completion of the facility.
About Safeware
Founded in 1982, Safeware is a fully licensed Insurance Agency as well as a Third Party Administrator for Extended Warranty and Service Plan Solutions. This unique combination gives partners the flexibility to customize a program that meets their distinct needs, and allows their customers to own their products with confidence.
To learn more about Safeware, please visit the company online or contact us at 1-800-800-1492.