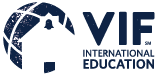 New Global Citizens has set out to support the development of knowledge, skills and expertise necessary for students to become mindful, global citizens. - VIF CEO David Young.
Chapel Hill, NC (PRWEB) June 08, 2016
VIF International Education, a global education partner of K-12 schools and districts, has announced that it will relaunch New Global Citizens, an organization that provides the resources educators need to increase global competency in the classroom and kickstart after-school programs. The relaunch positions VIF to expand educator reach and student engagement beyond the classroom, allowing the organization to strengthen its ability to provide quality, equitable global education.
New Global Citizens selected VIF due to the organizations mutual alignment of vision, as well as quality and reputation of VIF's curricular resources. VIF will own all of New Global Citizens' programs, intellectual property and brand identity.
"Much like us, New Global Citizens has set out to support the development of knowledge, skills and expertise necessary for students to become mindful, global citizens," said VIF CEO David Young. "We look forward to relaunching their complementary curricular programs which will enrich our offerings, enabling us to equip teachers with what they need to successfully introduce after-school programs."
In today's connected economic climate, VIF understands the power of education to change lives and empower global leaders. Viewing teachers as force multipliers of quality education for all, the organization supports educators by providing engaging, measurable and affordable global education programs and peer-to-peer collaborations.
"We are thrilled that New Global Citizens mission and programs will continue to live and thrive as a part of VIF," said Jennifer Vollmann, former head of NGC. "Combining New Global Citizens resources and partner network with VIF's experience and programs will accelerate our mission and increase the number of teachers and students that can be activated as global citizens."
For the latest updates on the relaunch or quality, equitable global education, follow @vifglobaled on Twitter.
###
About VIF International Education
VIF International Education partners with districts and schools to prepare global-ready teachers and students. For more than 25 years, educators have used VIF's professional development and curriculum, language acquisition and cultural exchange teacher programs to create engaging learning environments that integrate technology, cultural literacy and other 21st century skills into classroom instruction. VIF is a certified B Corp and 'Best for the World' honoree headquartered in Chapel Hill, North Carolina. For more information visit http://www.viflearn.com.
About New Global Citizens
New Global Citizens' mission is to activate individuals to use their knowledge and skills to make a positive impact within the global community. New Global Citizens provides afterschool programs, classroom curriculum, and professional development trainings that integrate global issues into learning. Through their involvement in New Global Citizens, youth develop the knowledge and skills they need to make a positive impact and thrive in higher education and future careers.