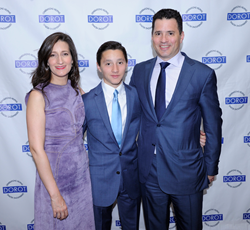 (PRWEB) June 08, 2016
Kim and Josh Targoff were honored at the Benefit for their contribution to DOROT and the Intergenerational Chess Program. The evening was a success, with close to $600,000 being raised to support DOROT's programs.
DOROT is an organization whose mission is to alleviate social isolation among the elderly and provide services to help older adults live independently as valued members of the community. As part of that mission, DOROT hosts a chess program that matches teens with seniors for weekly games of Chess.
The program was started by Zachary Targoff, son of the Benefit honorees, when he began playing weekly games of chess with Herman Bomze, a retired engineer and holocaust survivor. The Targoffs have generously funded the program as well as its expansion to Westchester County, New York.
In addition to honoring the Targoffs, the Benefit also celebrated DOROT's 40th anniversary. "DOROT has been a leader in volunteer services for the past 40 years. It was wonderful to celebrate that milestone and to look forward to DOROT's next 40 years of continued success," said Mark Meridy, Executive Director at DOROT.
Further details about the Benefit, including photos from the event, can be viewed at dorotusa.org