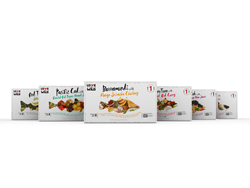 "It's recommended that Americans eat two servings of fish a week, but less than one in five do, largely because they lack the confidence to cook it."
DENVER, Colo (PRWEB) June 14, 2016
LoveTheWild™ wants to make it easy for every American to eat fish at least twice a week. With a mission to change the way Americans think about and eat frozen fish, LoveTheWild has expanded its distribution to Sprouts, Wegmans and select independent grocers. Offering consumers an easy and empowering culinary experience, LoveTheWild's frozen entrées combine sustainably-sourced, 100 percent traceable fish with bold, handcrafted sauces designed to take the guesswork out of cooking.
Founded in Boulder, Colo. by aquaculture advocates Jacqueline Claudia and Christy Brouker in 2014, LoveTheWild is poised to change the seafood industry by tackling two distinct problems: making fish simple to cook with an easy, 3-step cooking kit, while conserving fish species for future generations.
"It's recommended that Americans eat two servings of fish a week, but less than one in five do, largely because they lack the confidence to cook it," says Claudia. "LoveTheWild's entrées are game changers in the frozen fish category: truly culinary, truly consciously sourced and truly easy-to-cook."
"We are proud to be one of the first retailers to offer LoveTheWild products, and delighted to support a family-owned business that shares in our company's strong commitment to seafood sustainability and traceability," said Mark Fromm, category merchant of seafood at Wegmans. "The convenience of the line is a perfect fit for our busy customers. Being able to cook from frozen is a huge time-saver and the impeccably clean ingredient decks make this a healthy, delicious option for the whole family," he noted.
Using a traditional French cooking technique called "en papillote," each LoveTheWild kit contains parchment into which the fish and heart-shaped frozen sauce cubes are placed. This cooking method steams the fish to perfection. LoveTheWild offers six distinct SKUS.

Barramundi with Mango Sriracha Chutney
Catfish with Cajun Crème
Albacore Tuna with Coconut Red Curry
Pacific Cod with Roasted Red Pepper Almond Sauce
Red Trout with Salsa Verde
Rockfish with Southwestern Black Bean Sauce
Suggested retail prices range from $6.99 to $10.99 (single serve box).
"The plight of threatened fish species is serious and we built our company to be a solution to this current tragedy. We can't increase our intake of fish without responsible, long-term sources. And we can't promote sustainable fish without delivering on taste. It's why we spent an incredible amount of time on developing the flavor profiles of the sauces with a classically trained chef," notes Brouker. "Our lineup features fish like barramundi and trout that have great nutritional profiles, thrive in beautiful and environmentally friendly family farms and are some of the most resource efficient animal proteins on the planet. We source responsibly, so that people can enjoy all the benefits of eating fish and help preserve our oceans at the same time," she states.
For full details of LoveTheWild's national distribution, visit http://www.lovethewild.com, email SayHello(at)lovethewild(dot)com, or call 844-424-9875.
About LoveTheWild:
Founded in Boulder, Colo., by Jacqueline Claudia and Christy Brouker in 2014, LoveTheWild's mission is to 'save the world, one delicious fish at a time.' LoveTheWild pairs sustainable fish with bold sauces for a restaurant quality meal with less effort. Committed to corporate sustainability, the company was named a Fish 2.0 award winner in 2015. LoveTheWild's founders actively promote the benefits of sustainable fish and healthy diets.