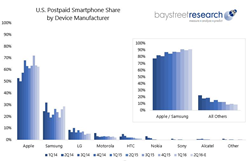 It's a bleak environment for the other Android smartphone manufacturers.
San Francisco, CA (PRWEB) June 09, 2016
Over the past eight quarters, smartphone manufacturers Apple and Samsung have increased their combined market share of the U.S postpaid smartphone market from 82% to 91%. During this same time, manufacturers such as LG, Motorola, HTC, and others have seen their combined share reduced by half from 18% in Q2 of 2014 to 9% in Q2 of 2016, according to the latest BayStreet Research estimates ending May 31st.
To make matters worse, the U.S. market for postpaid smartphones continues to contract and is on pace to decline 9.4% year over year in Q2 to roughly 20 million units. The combined effect of Apple and Samsung's share gains and the shrinking market will result in only 1.7M total postpaid smartphones sold by other OEMS in Q2 of 2016, compared to 2.7M in the same quarter last year, a 37% decline.
Cliff Maldonado, Founder and Principal Analyst at BayStreet Research, comments: "The combination of a maturing U.S. postpaid smartphone market and aggressive Apple and Samsung "buy one, get one free" promotions in the last few months has created a bleak environment for the other Android smartphone manufacturers. The premium smartphone market has fewer and fewer alternatives to Apple and Samsung, and we don't see this changing anytime soon."
Source
The data is based on BayStreet's highly-refined research process, collected through channel surveys of carrier and national retailer stores, and triangulated with secondary research, supply chain checks and publically available data sources to ensure accuracy.
Background
Since 2003, BayStreet Research has been recognized as a leading US and Western European mobile device market research firm. In addition to many top hedge fund and mutual fund clients, BayStreet is a trusted advisor to the U.S. national carriers, smartphone and component manufacturers, and several large software companies, who lean on BayStreet's timely measurement and deep understanding of the "why" behind the data.
Contact
Cliff Maldonado
415-951-8181