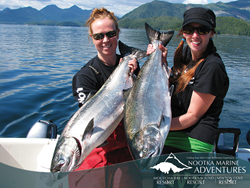 Participants enjoy world-class fishing and luxury accommodations while competing against LLTK's most generous supporters for more than $25,000 in prizes.
BRITISH COLUMBIA, CANADA (PRWEB) June 13, 2016
Duke's Chowder House, a chain of family-owned sustainable seafood restaurants in the Seattle area, joins Long Live the Kings, (LLTK), a nonprofit committed to recovering wild salmon and steelhead in the Pacific Northwest, in presenting the First Annual VIP Salmon Fishing Derby. The Derby will run from June 18-21, 2016 on British Columbia's beautiful Esperanza Inlet, hosted by Nootka Marine Adventures at the new Newton Cove Resort, exclusive fishing lodge on Vancouver Island.
To enter, competitors pay $5,000 plus transport costs. $2,500 of the $5,000 goes directly to benefit LLTK. In return, Duke guarantees chowder for one year at any of the six Duke's Chowder House locations (valued at $10,000 when chowder is eaten twice per day). Included with entry is a copy of the official Duke's Chowder House cookbook, "As Wild As It Gets . . . Duke's Secret Sustainable Seafood Recipes."
The Derby's goal is to fund the work of LLTK, namely, figure out why juvenile salmon and steelhead are dying and how to multiply and recover endangered salmon and steelhead populations in the Salish Sea and the Pacific Northwest.
Participants enjoy world-class fishing and luxury accommodations while competing against LLTK's most generous supporters for more than $25,000 in prizes. Moreover, the Derby presents a splendid opportunity: Washington's most influential environmentalists will become better acquainted, experience fantastic fishing in an iconic northwest setting, and to reassert a life-long commitment to salmon and steelhead restoration.
The Derby is limited to 40 fishers.
For more information on Duke's Chowder House, visit http://www.dukeschowderhouse.com/.
For derby details, contact Daniel Poppe: (206) 382-9555 x21, or dpoppe(AT)lltk.org.
Can't attend? Donate here!
About Duke's Chowderhouse
Duke's Chowder House is a family owned and operated enterprise with six different locations throughout the Puget Sound region. Renowned for its Award Winning Clam Chowder, Duke's menu is filled with delectable seafood dishes crafted by Duke and Duke's very own Executive Chef "Wild" Bill Ranniger–a proclaimed culinary genius in the region. Founder and Owner Duke Moscrip – together with his son and partner John Moscrip – continue their passionate journey to source all wild, natural, healthy and fresh tasting ingredients. Duke's food is free of hormones, antibiotics and harmful chemicals. Duke's is an upscale, casual Pacific NW seafood concept offering signature, flavorful, 100% sustainable wild seafood, Award Winning Chowder and grass fed burgers. Guests sum up their favorable assessment of what Duke's Chowder House has to offer with three words: "It's sooo good!" Duke's is honored to have received the highest seafood restaurant rating in the State of Washington by Fish2Fork, a leading evaluator of worldwide seafood restaurants, garnering a 4.5 out of 5 (no higher rating in the world). Duke's is equally honored to be among the first restaurants in Seattle to be recognized with a 100 percent volume compliance sustainable seafood rating from Smart Catch, a program designed to promote sustainability and raise consumer awareness regarding sustainable seafood options. Learn more and join Duke's VIP club at http://www.dukeschowderhouse.com/email-club/.
About Long Live the Kings
Long Live the Kings (LLTK) is a public 501(c)(3) nonprofit organization committed to restoring wild salmon and steelhead to the waters of the Pacific Northwest. LLTK pursues projects and partnerships that compel coordinated, scientifically-credible, and transparent changes to harvest, hatchery, and habitat management to protect and restore wild salmon using innovative tools, proven processes, and a track record of success to each of our projects. With non-government partners, LLTK builds new and necessary constituencies and support for change. For more information, visit http://www.lltk.org/.
About Nootka Marine Adventures
Nootka Marine Adventures is designed to serve all the aquatic needs of everyone; from families with kids to multi-national corporations with VIP's to reward. Newton Cove Resort is one of three all-inclusive fishing resorts that surround three-quarters of Nootka Island, part of Nootka Sound. For more information, visit http://www.nootkamarineadventures.com/.