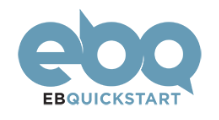 "I've worked with a lot of sourced vendor support over the years, and I can readily say that EBQ has earned my professional respect for their extensive capabilities and business acumen." - Jackie Paralis, Sr. Marketing Manager - OKI Data
(PRWEB) June 14, 2016
In addition to Lead Generation, EBQ now provides services for List Building, Marketing, Sales, Pardot Administration, and Salesforce.com Administration making it a one-stop shop for all B2B sales and marketing needs. EBQ's second largest revenue generator is Pardot. EBQ is one of the few "Pardot Select Partners" in the U.S. with over 200 Pardot implementations this year.
When a client engages with EBQ, they don't just get a specialist; they get a dedicated team consisting of a management layer coupled with the specialist(s). One of the biggest challenges companies face today is turnover. A good sales development representative (SDR) will want to either advance in the company or move to another company with better opportunities, leaving a void. The months following can mean lost cycles hiring and training a new SDR. EBQ eliminates that process and provides a steady stream of sales qualified appointments with predictable revenues.
"I think one thing people find most attractive about EBQ is our monthly agreement. We earn your business every month, every quarter, every year. The other big seller is our competitive pricing. You won't be able to find talent and management for that talent in the north east for less than what EBQ costs; not to mention pay for their taxes, benefits, and equipment. It's a no brainer" said Adam Krutsinger, Head of NE Sales. "We have really started to shine with cyber-security companies, cloud SaaS providers, and business continuity/disaster recovery organizations. Regardless of industry, if you're annual ASP is over $20K, you are a perfect fit for EBQ."
For more information about EBQuickstart, visit http://www.EBQ.com or call 512-292-1189
About EBQ
EBQ is a privately held Austin-based sales and marketing execution firm founded in 2006, offering services that range from lead generation and sales to prospect database building and marketing automation. We are the sales process experts and have designed our spectrum of services to cover all aspects of the sales and marketing cycle. Clients that stay with us for at least 12 months see an average ROI of over 200%.