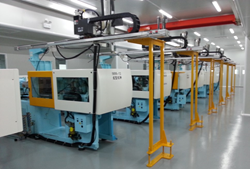 China is encouraging local R&D and local manufacturing, particularly on high-value medical products such as drug delivery and medical devices
Columbus, OH (PRWEB) June 14, 2016
EG-GILERO, a leader for design, development and contract manufacturing services within the medical device, drug delivery device, and primary pharmaceutical packaging markets, announces today at the MD&M East 2016 Exposition in New York, NY, a major expanded investment in the state-of-the-art Shenzhen, China facility previously branded under Medacys.
"China is encouraging local R&D and local manufacturing, particularly on high-value medical products such as drug delivery and medical devices", said Larry Jutte, President & COO of EG Industries, "not just to be a supplier of components to the device world, but to be a manufacturer of finished devices for the local market."
With 60,000+ square feet of product design & development resources, in-house tool building, scientific injection molding capabilities and both automated and manual assembly capabilities, EG Asia is well positioned to provide support for our customers seeking entry in this rapidly growing market. Part of this strategic localization effort includes expansion of capabilities with the addition of Liquid Silicone Rubber (LSR) injection molding and more in the coming months.
"The Chinese medical technology market is expected to grow at double digit rates in the coming years," explains Tim Hopper, CMO of EG-GILERO. "Our investment in our Shenzhen, China facility will allow us to provide our clients with an outsourced solution that provides an OEM product line to the Chinese market. The facility also provides a responsive, high quality and lower cost option to source tooling, molding and assembly for utilization across the globe at a world-class level."
EG-GILERO continues executing on its strategy to offer its customers options to commercialize their device domestically in the United States or in a lower-cost country such as China with an unwavering commitment to quality and we will continue to work with our customers to ensure proper representation in other strategic areas of the globe.
About EG-GILERO
EG-GILERO is your single-source, trusted partner for design, development and manufacturing within the medical devices, drug delivery, and primary pharmaceutical packaging markets. With operations in the United States and Asia, EG-GILERO is strategically positioned to provide the value added services our clients require in a competitive, ever-changing global marketplace.
About EG Industries
Since 1981, EG Industries has been manufacturing high quality products and providing value added services for worldwide customer satisfaction. We offer the industry's most disciplined R&D, design, engineering and manufacturing production processes that now supports industries including: automotive, medical, energy and life sciences, as well as consumer and industrial customers.