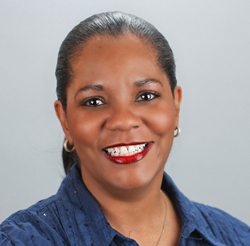 This is so inspiring. To have someone recognize our efforts to end homelessness, build businesses and support women is just awesome!
East Orange, NJ (PRWEB) June 16, 2016
Cheryl McCants - President and CEO of Impact Consulting Enterprises Finalist for Leading Women Entrepreneurs
Impact Consulting Enterprises President and CEO Cheryl McCants announced today that she was selected as a finalist for the 2016 List of Top 25 Leading Women Entrepreneurs. Sponsored by New Jersey-based LWE, the competition included close to 700 nominees with Cheryl making the final round of 150 phenomenal women. After nominations were submitted and finalists identified, the road to selection is an increasingly engaging one. Recently, Cheryl attended an interactive networking event designed to meet the other Leading Women Entrepreneurs (LWE) finalists and staff entitled: Money, Procurement, Power and Media. During this power-packed seminar, Cheryl was able to pitch her business and receive real-time feedback from media outlets including NJBiz, Fox News and omj.com.
The 25 Leading Women Entrepreneurs are selected out of hundreds of impressive nominations based on their strong business acumen and ability to both influence and inspire within their respective industries. Under the guidance and direction of LWE founder and CEO Linda Westbrook, women leaders will continue to be recognized year after year.
"This is so inspiring," said Cheryl. "To have someone recognize our efforts to end homelessness, build businesses and support women is just awesome! We are storytellers. As public relations experts, we tell stories that make people feel good about where they are, and better about where they're going. What is good for people is good for business. I am overjoyed that someone wants to help us tell our story."
Impact provides a communication platform that helps clients establish brand loyalty and connect with targeted audiences. Team members have a moral imperative to take care of each other and can regularly be heard saying, 'It's not just business. It's Impact business which means, its family.' The company specializes in connecting to and communicating with millennials, women, Latinos, African Americans and Asians.
This nomination comes right behind Impact's resurgence of being #Impactful. It also transitions fluidly into the revival of Cheryl's Great Football Sunday™ campaign. Birthed from Super Bowl XLVIII in 2014, the Great Football Sunday brought awareness to the changing face of homeless within New York City and the State of New Jersey. The team worked with two proven and successful organizations, 100,000 Homes and Family Promise of Bergen County. These non-profits were selected as partners because of their low recidivism rate and their commitment to end homelessness. Using crowdfunding techniques, a consortium of women-owned businesses and a breakthrough marketing and fundraising approach modeled after Whole Foods co-CEO John Mackey's principle of conscious capitalism, Impact was able to obtaining capital funding for both organizations, and tell the story about the homeless working poor in our society.
Cheryl and the Impact team work with words. This nomination is an honor for everyone.
About Impact Consulting Enterprises
Impact Consulting Enterprises (Impact) is minority and woman-owned strategic communication, marketing and public relations firm. We are brand storytellers who assist companies with working through the noise of confusing messages within their internal communication materials, news releases and marketing collateral. The result of our collaboration is clients who know what to say, how to say it and when to say it.
###