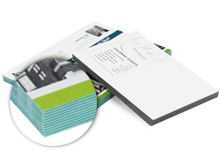 "We're excited to introduce color core stock," says Mark Kral, Navitor's product manager for stationery. "It's a great time for our customers to bring some color to their print order."
North Mankato, Minn. (PRWEB) June 16, 2016
Navitor, located in North Mankato, MN, is pleased to announce the addition of color core stock to their product offering.
Color core stocks are made using layers of stock fused together to create a more substantial stock. According to Mark Kral, the variety of Navitor's color core stock options was selected to help Navitor resellers better cater to the end user of the business cards.
"Debuting this stock with five different color options lets us offer our customers the variety they need to select a color core stock that matches their client's brand," says Kral, Stationery Product Manager. "We're also excited that these products will be debuting online, because it allows our customers to easily upload their clients' existing artwork to create their new color core business cards."
Color core stock options currently available include black, orange, blue, red, and aqua. This stock is now available for select styles of business cards, announcements, and postcards ordered through the Navitor website.
More information about Navitor and the company's selection of specialty printed products can be found at Navitor.com.