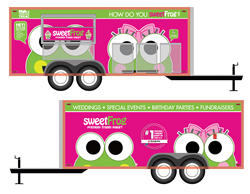 We look forward to opening our first food court location in Maui soon.
Richmond, VA (PRWEB) June 14, 2016
sweetFrog Enterprises, named by The Daily Meal as America's Best Frozen Yogurt, has announced that it will unveil multiple new franchise ownership opportunities, including a brand new sweetFrog mobile unit/food trailer, during the International Franchise Expo (IFE), June 16-18, at The Javits Center in New York, NY.
sweetFrog will be putting non-traditional build-out options, such as kiosks, food courts and airport locations, and the newly designed food trailer (now available as a full mobile unit franchise opportunity) on full display throughout the IFE show – the largest annual franchise expo in the country.
sweetFrog's CEO, Pat Galleher, says these new franchise ownership opportunities are custom-built for modern franchise buyers looking to capitalize on an increasingly mobile society.
"Non-traditional franchise locations allow new owners to capitalize on a mobile and active customer base at a fraction of the cost while still benefitting from the same brand recognition and corporate support traditional franchise owners receive," said Galleher. "And after the success we've enjoyed testing our newly designed food trailers and our kiosk model – found in Yankee Stadium and Richmond Coliseum – we are perfectly positioned to recruit new sweetFrog franchise owners eager to capitalize on proven, non-traditional franchise opportunities."
Alex Tosta, sweetFrog's Director of Franchise Development, says the International Franchise Expo is the perfect venue at which to highlight these new non-traditional franchise ownership opportunities as they will be attractive to prospective international and domestic owners.
"We have successfully expanded the sweetFrog concept in the Dominican Republic and Egypt since our 2009 inception and we have our eye on the Middle East, Asia and Latin America as our next target areas of expansion," said Tosta. "On the home-front, we're looking to connect with potential franchise owners in key states, like New Jersey, and target areas of expansion throughout the country, including the Midwest and west coast. We are confident all of our non-traditional franchise options will be appealing to prospective franchisees seeking fast-growing and innovative franchise concepts with proven success in a variety of markets."
sweetFrog will have a number of key staff members on hand at the 2016 IFE show, including:
CEO – Patrick Galleher
Director of Franchise Development – Alex Tosta
Manager of Franchise Development – Casey Cooley
Manager of Franchise Marketing & Sales – Shemar Pucel
Director of Operations – Adam Silverman
Manger of Supply Chain – Gibson Gahan
For more information on sweetFrog, please visit http://www.sweetfrog.com.
About sweetFrog Frozen Yogurt:
Sweet Frog (http://www.sweetfrog.com) is the fastest growing premium, all natural, self-serve frozen yogurt restaurant company in the country. With a wide selection of premium frozen yogurt flavors and fresh topping choices, sweetFrog was named Best Frozen Yogurt in the USA by The Daily Meal in 2014 and 2016. sweetFrog has 340 stores including both company-owned, franchise and independently licensed locations either open or under contract in twenty-four states in the U.S, Dominican Republic, United Kingdom and Egypt. The company was founded in 2009 and is based in Richmond, Virginia. Sweet Frog prides itself on providing a family-friendly environment where customers can enjoy soft-serve frozen yogurt, gelato and sorbets with the toppings of their choice. The company was founded on Christian principles and seeks to bring happiness and a positive attitude into the lives of the communities it calls home.
Contact:
Matt Smith, Chief Marketing Officer
matt.smith(at)sweetfrog(dot)net
(804) 835-6796
10800 Midlothian Turnpike, Suite 300
Richmond, VA 23235