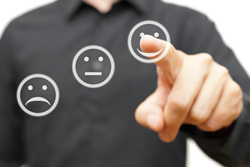 AcctTwo's overall NPS score of 70 is among the highest in the US.
Houston, TX (PRWEB) June 14, 2016
AcctTwo, a leading consulting firm and provider of cloud-based financial management solutions, announced the firm's customer success measurements today, posting scores among the highest in the country. The firm has proven its commitment to measuring customer success and customer satisfaction by following the Net Promoter System, developed by Fred Reichheld, Bain & Company, and Satmetrix. The Net Promoter Score is measured by categorizing each customer based on their response to one simple question: On a scale of 0 to 10, how likely are to you to recommend our company, products and services to a friend or colleague.
Scores of 9 or 10 are considered "Promoters." Scores of 7 and 8 are considered "Passives." Finally, scores of 1 through 6 are called "Detractors." The final Net Promoter Score is then calculated by subtracting the percentage of Detractors from the percentage of Promoters.
AcctTwo sells and implements Intacct's best-in-class on-demand ERP for customers all over the US and around the world. The firm also supports those customers after they've moved to the Intacct platform: solving support cases, providing consulting services, development and technical services, and building reports and dashboards. Net Promoter surveys are therefore held upon completion of each implementation, and customers are surveyed periodically upon the closing of a support case.
Survey results of more than 250 AcctTwo customers across many industries are as follows:

For Intacct implementation projects, AcctTwo's Net Promoter Score is 59.
For ongoing Intacct support, the Net Promoter Score is 80.
Overall across all implementations and support contracts, the firm's Net Promoter Score is 70.
To help put these scores into context, the Temkin Group held a survey for 2015, providing scores for 291 companies across 20 industries based on surveys of more than 10,000 U.S. consumers. The highest score of 70 was for USAA in the insurance industry. Mercedes-Benz and Lexus followed, both with scores of 62. This puts AccTwo's NPS score of 70 among the highest in the US.
AcctTwo's high scores are indicative of the commitment that the firm has made as a company to the success of its customers. "Credit goes to our Professional Services team under the leadership of our CTO, Brett Michalson," said Marcus Wagner, Founder and CEO of AcctTwo. "We couldn't be prouder of these results, and we will strive to not only keep the scores up, but improve upon on them going forward."
About AcctTwo
AcctTwo is a leading consulting firm and reseller of cloud-based accounting and financial management software. Our sophisticated systems solve the issues growing middle market companies face today. AcctTwo also provides Business Process as a Service (BPaaS) solutions, allowing clients to focus on the core competencies of their business. We provide the people, processes, technology, and office facilities to perform these functions, while allowing clients to collaborate interactively through an on-line portal.
AcctTwo is headquartered in Houston, Texas. For more information, please visit http://www.accttwo.com or call 713-744-8400.
Contacts:
Peter Wagner
Director of Marketing
AcctTwo
Cell: 512.415.6846
Email: pwagner(at)accttwo.com
Chris Wailes
VP, National Media Relations
Pierpont Communications
Direct: 713.627.2223
Email: cwailes(at)piercom.com