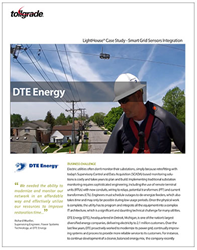 Having a monitoring platform such as Lighthouse as part of our distribution monitoring capabilities enables us to make appropriate decisions and reliably deliver power to our customers
Reston, VA (PRWEB) June 14, 2016
Tollgrade Communications, Inc., the industry leader in redefining the global standard for reliability at the world's largest electric utilities and telecommunications providers, today announced that DTE Energy will expand its deployment of Tollgrade's LightHouse® Smart Grid Sensors over the next two years.
In June of 2014, DTE Energy and Tollgrade partnered under the Clinton Global Initiative (CGI) on a commitment titled "Building a Predictive grid in the Motor City."
"The initial goal of the CGI project was to gain a better understanding of the cause and effect of power grid disturbances, like momentary outages or equipment failures, and help utilities take corrective measures before they cascade into major power outages," said Ed Kennedy, CEO and President of Tollgrade Communications, Inc. "The project exceeded the goals and now a wide scale deployment will assist a broader range of customers."
This partnership achieved one of its most significant objectives within the first few months of collaboration. The vast majority of grid events monitored by Tollgrade's Predictive Grid® Analytics software were identified and classified as a new category of events, and a reliable precursor to power outages, called "line disturbances." Line disturbances are defined as short-lived fault events, such as a tree touching the line, which do not trip protection or raise alarms by traditional grid equipment. They could also be caused by an asset on the grid that is about to fail, such as a voltage regulator or transformer.
As a result of this successful joint initiative, DTE Energy decided to fully leverage LightHouse data to modernize its electric grid and improve the reliability of its service to customers. To do so, in parallel to the CGI project, and began to scale the deployment of Tollgrade's sensors, first to the City of Detroit and then throughout its service territory over a multi-year deployment.
"Having a monitoring platform such as Lighthouse as part of our distribution monitoring capabilities enables us to make appropriate decisions and reliably deliver power to our customers by eliminating gaps in our understanding of the feeder load and getting more insight into disruptions." said Richard Mueller, Supervising Engineer, Power Systems Technology, at DTE Energy.
"We needed the ability to modernize and monitor our network in an affordable way and effectively utilize our resources to improve restoration time. The Tollgrade sensors provide a way to quickly deploy monitoring at many locations," Mueller said.
CGI update reports
Based on project success to-date, and since many functions of the project are now integrated into standard operations, DTE and Tollgrade will share future updates and best practices with the industry through case studies instead of publishing quarterly Predictive Grid reports. The companies also plan to publish a final joint report during 2017, which summarizes the findings and lessons learned.
For more information about the Tollgrade LightHouse solution, visit http://www.tollgrade.com or download the case study to learn more about the integration into DTE's network architecture.
About Tollgrade
With more than 200 million lines under test, millions of utility outage minutes avoided annually and 25 years of experience successfully locating faults at the world's largest electric utility companies and telecommunication service providers, Tollgrade is redefining the global standard for reliability. Our award-winning are deployed on four continents to help operators avoid network outages and reduce customer downtime. Since 2013, Tollgrade has won more than twelve awards, established itself as the world's market share leader of smart grid sensors and was recognized by President Bill Clinton for a Commitment to Action to build a "Predictive Grid in the Motor City" with DTE Energy in Detroit. To learn more about Tollgrade, visit http://www.tollgrade.com or read more about the benefits of grid modernization on our blog.
About DTE Energy
DTE Energy (NYSE:DTE) is a Detroit-based diversified energy company involved in the development and management of energy-related businesses and services nationwide. Its operating units include an electric utility serving 2.2 million customers in Southeastern Michigan and a natural gas utility serving 1.2 million customers in Michigan. The DTE Energy portfolio includes non-utility energy businesses focused on power and industrial projects, natural gas pipelines, gathering and storage, and energy marketing and trading. As one of Michigan's leading corporate citizens, DTE Energy is a force for growth and prosperity in the 450 Michigan communities it serves in a variety of ways, including philanthropy, volunteerism and economic progress. Information about DTE Energy is available at dteenergy.com, twitter.com/dte_energy and facebook.com/dteenergy/.
Tollgrade Media Contacts:
Anne-Laure Leroyer
Marketing and Communications Director
Tollgrade Communications, Inc.
+1 202-701-0083 (mobile)
ALeroyer(at)tollgrade(dot)com
UK
Marcus Edgar
Resonates SLM Ltd
Newbury, Berkshire
t. +44 (0)1635 898 363
m. +44 (0)7810 876 077
e. marcus(at)resonates(dot)com
DTE Media Contacts:
John Austerberry
Manager, Corporate Communications
313.235.8859
Stephanie Beres
Manager, Media Relations
313.235.3202