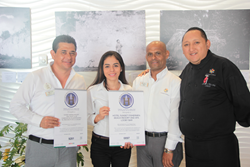 Cancún, Quintana Roo (PRWEB) June 14, 2016
Sunset World Resorts & Vacation Experiences has secured its leadership as one of the hotel chains that is most committed to quality in tourist services in the Mexican Caribbean receiving 10 Distintivo H certificates for its hotels Sunset Marina Resort & Yacht Club and Sunset Fishermen Beach Resort.
In a ceremony held at Four Points by Sheraton in Cancún, in the presence of authorities and representatives from the private sector, the Minister of Tourism of the State of Quintana Roo, Raúl Andrade Angulo, presented six Distintivo H certificates to Sunset Marina Resort & Yacht Club and four more to Sunset Fishermen Beach Resort for fulfilling the highest standards of quality and hygiene during the preparation and handling of food and beverages in their restaurants and bars.
Mr. Andrade Angulo thanked the executives and team members of the hotel chain for uplifting the name of Quintana Roo and Mexico and motivated them to work every day with greater excellence and commitment to keep on making this destination the favorite spot for national and international tourists.
Sunset World is one of the hotel chains in the Mexican Caribbean to have received the greatest amount of Distintivo H certifications from the Tourism and Health Ministries in the present year, totaling 45. In March of this year, 35 certifications guaranteeing quality were given to four of the chain's hotels: 14 certifications were granted to Hacienda Tres Ríos Resort, Spa & Nature Park in the Riviera Maya; Sunset Royal Beach Resort and Ocean Spa Hotel in Cancun in turn received 9 each and Laguna Suites Golf + Spa obtained 3.