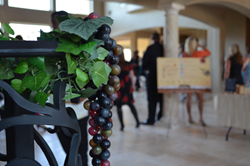 Richmond, Texas (PRWEB) June 13, 2016
This past May Lakes of Bella Terra, a 725-acre mixed-use, master-planned community, opened the doors of a 7,000 square-foot Mediterranean custom home to bring Realtors "A Taste of Tuscany" in Richmond, Texas.
Guests showed up by the dozens to indulge in gourmet Tuscan food and tour gorgeous new homes for sale in West Houston at Lakes of Bella Terra. From create-your-own-pasta dishes to wine and cheese pairings, the food, like the attendance, was anything but skimpy.
The evening's success, however, was as much the result of the great venue as the incredible food and wine. A Mike Harrison Custom Homes property was the site of the festivities and one of nine gorgeous new homes that partygoers could tour.
Inspired by the ancient Italian countryside, Lakes of Bella Terra showcases lush green spaces, beautiful water features and Tuscan-style architecture. For homebuyers looking for something different, they can escape to a beautiful community that offers a taste of Tuscany right here in Houston, Texas.
Lakes of Bella Terra is home to prestigious Houston homebuilders Ashton Woods, Brighton Homes, Chesmar Homes, D.R. Horton, Homes by David Powers, Grand View Builders, K Hovnanian Homes, Trendmaker Homes and Mike Harrison Custom Homes & Westport.