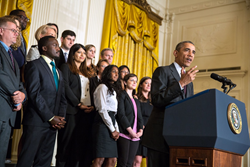 We believe in the power of entrepreneurship. Encouraging entrepreneurship can help us tackle some of the greatest challenges in the world
San Francisco, California (PRWEB) June 15, 2016
The Silicon Valley Asia Technology Alliance (SVATA), a nonprofit dedicated to fostering global cross-collaborations between Silicon Valley and Southeast Asia, today announced that Sonita Lontoh, co-founder and executive director, has been invited to be a speaker at the 2016 Global Entrepreneurship Summit (GES), to be hosted by U.S. President Barack Obama at Stanford University, June 22-24.
From the gold rush to the digital age, the spirit of innovation is alive and well in Silicon Valley. GES looks for concrete ways to leverage this American spirit of ingenuity to leverage entrepreneurship and innovation as tools to help countries and people around the world tackle our most pressing challenges and create opportunities for betterment for all.
Ms. Lontoh, a Silicon Valley technology executive focusing on Internet of Things (IoT) and increasing cross-collaboration between Silicon Valley and Southeast Asia, will speak on a panel titled Navigating the ASEAN Market: Successes and Challenges in Investing in Southeast Asia. The panel is part of President Obama's U.S.-ASEAN Connect initiative, announced in February, which supports Southeast Asia's emerging entrepreneurial ecosystem through policy support and direct engagement with entrepreneurs. Ms. Lontoh's participation demonstrates her personal commitment to the President's long-standing support for entrepreneurship all around the world.
"I am humbled and honored for the opportunity to speak at GES 2016. As an Asian American female technology executive and entrepreneur, I always look for ways to increase global cross collaboration in technology, innovation and entrepreneurship, between the United States and emerging countries, especially those in Southeast Asia. GES 2016 dovetails beautifully with my aspirations," said Sonita Lontoh, co-founder and executive director, SVATA.
GES is a reflection of the U.S. government's commitment to utilizing entrepreneurship as a foundational tool to build more communities around the world that are economically prosperous, secure, and globally connected. The event will attract approximately 1,000 attendees, including entrepreneurs, investors, educators, government officials, and business leaders who represent the full measure of entrepreneurial talent from diverse backgrounds across our nation and the world.
At a White House Global Entrepreneurship Event on May 11, 2015, President Obama said, "We believe in the power of entrepreneurship — the basic notion that if you've got an idea and if you really work hard and you're able to pick yourself up if you stumble a couple of times, you can eventually turn that idea into a reality. And this matters to us because encouraging the spirit of entrepreneurship can help us to tackle some of the greatest challenges that we face around the world."
For more information on GES 2016, including a full agenda and speaker list, please visit http://www.ges2016.org. 
-----------------------------------------------------------------------------------------------------------------------------------------------------------------
About SVATA
SVA Technology Alliance (SVATA) is a Silicon Valley-based nonprofit whose mission is to connect and spur global cross collaborations between the tech ecosystem of Silicon Valley and Southeast Asia. SVATA collaborates with top Silicon Valley's technology entrepreneurs, venture capitalists and incubators/accelerators to create an ecosystem that can help high-growth technology companies from emerging markets succeed on a global level. To learn more, visit http://www.svatechnology.com
About GES2016
GES 2016 aims to showcase inspiring entrepreneurs and investors from around the world creating new opportunities for investment, partnership, and collaboration; connect American entrepreneurs and investors with international counterparts to form lasting relationships; and highlight entrepreneurship as means to address some of the most intractable global challenges. Hosting GES in Silicon Valley will highlight America's entrepreneurial spirit and allow American investors and entrepreneurs to see the talent, solutions, and opportunities that exist globally. In bringing the Summit back to the United States, President Obama highlights his commitment to building bridges that help us tackle global challenges together. To learn more, visit http://www.ges2016.org.