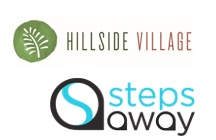 Dallas, TX and Los Angeles, CA (PRWEB) June 14, 2016
Hillside Village, a 615,000-square-foot mixed-use, open-air lifestyle center in Cedar Hill, Texas, today announced complimentary Wi-Fi access and the availability of the StepsAway mobile app, making it even easier for customers to learn about tenant sales and promotions onsite at the property.
With complimentary Wi-Fi now available in all common areas, Hillside Village shoppers can access the new StepsAway web-based mobile app, SAMobile™, which provides smartphone access to hyperlocal in-store deals. No download or registration is required. Users can search for offers by retailer name or by category, such as Men, Women, Teen Fashion, Kids, Shoes, etc.
"On the heels of our extensive property renovations, we're thrilled to offer our customers an ever expanding list of amenities, which now includes complimentary Wi-Fi," said Maranda Auzenne, general manager, Hillside Village. "And, StepsAway offers an opportunity for us to connect our customers and merchants in a new way by ensuring our guests learn about great deals when they're at Hillside Village."
"Today's shoppers are looking for timely and relevant offers that they can take advantage of immediately while they're onsite at the shopping center," said Allan Haims, president and CEO of StepsAway. "StepsAway's app shows them hyperlocal offers on their phones that are available literally steps away from the store."
The addition of new amenities like complimentary property Wi-Fi come as part of Hillside Village's redevelopment efforts. The property recently completed a multi-million dollar renovation and rebranding, which includes a new children's play area, a Village Green promenade extension with a bocce ball court, new property signage, new shaded seating areas, upgraded landscaping and lighting, public art and façade renovations.
About StepsAway
StepsAway is a market-first, in-mall mobile retail solution offering shoppers smartphone access to hyperlocal in-store deals—driving more brick-and-mortar transactions. StepsAway empowers mall owners to increase sales per square foot and gives retailers an innovative way to reach and influence on-property consumer purchase decisions. Consumers access StepsAway – SAMobile™ – via a web-based mobile app upon signing onto a mall's Wi-Fi network and then peruse deals offered on premises. StepsAway's cloud-based proprietary technology platform, SAConnect™, allows nationally based retailers to create and deliver promotions across multiple mall owners/locations. StepsAway is a privately held company, based in Los Angeles, California. For more information, visit http://www.stepsaway.com.
About Hillside Village
Hillside Village, formerly known as Uptown Village at Cedar Hill, is a 615,000-square-foot mixed-use open-air center in Cedar Hill, Texas strategically located in the midst of a dynamic retail hub less than 20 minutes south of downtown Dallas. The popular center has over 60 tenants including anchors Dillard's, Dick's Sporting Goods, Barnes & Noble, a newly opened 21,000-square-foot H&M and specialty retailers Charlotte Russe, Old Navy, Hollister, James Avery, Papaya, The Children's Place and Victoria's Secret. To learn more about Hillside Village, please visit http://www.shophillsidevillage.com or interact with the shopping center on Facebook, Twitter and Instagram.