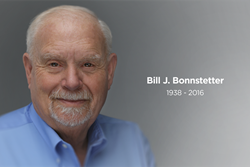 In honor of Bill J. Bonnestetter's legacy, please consider a donation to Hospice of the Valley or the Bonnstetter Family Foundation.
SCOTTSDALE, Ariz. (PRWEB) June 14, 2016
Bill J. Bonnstetter, founder and chairman of Target Training International and TTI Success Insights, passed away from cancer on June 2.
Bill J. Bonnstetter founded Target Training International, Ltd. and TTI Success Insights (TTI SI) in 1984 with his son Dave Bonnstetter.
Over the course of the last 32 years with Bill J. Bonnstetter at the helm, TTI Success Insights has earned the reputation of being the worldwide authority on self-discovery and research-based assessments. TTI Success Insights, today, has more than 7,000 associates worldwide with a presence in 90 countries.
With the passing of Bill J. Bonnstetter, Dave Bonnstetter will assume day-to-day responsibilities of leading the organization. Dave Bonnstetter was by Bill J. Bonnstetter's side when he founded the company in 1984 and previously served as the organization's lead on research, compliance and validity. In the company's succession plan, it was always planned that Dave Bonnstetter would lead the organization when Bill J. Bonnstetter stepped away.
In honor of Bill's legacy, the family has requested, in lieu of gifts or flowers, that donations be made to Hospice of the Valley, http://www.hov.org, or the Bonnstetter Family Foundation, a nonprofit 501(c)3 that supports charitable activities by making grants for educational, literary, scientific, or other charitable purposes. To learn more about the Bonnstetter Family Foundation, visit http://www.bonnstetterfamilyfoundation.org.
About TTI Success Insights
TTI Success Insights believes all people are unique and have talents and skills of which they are often unaware. We exist to reveal and harness these talents, using the Science of Self™. For over 30 years, we have researched and applied social and brain science, creating assessment solutions consultants in 90 countries and 40 languages used to hire, develop and retain the best talent in the world. With a tenacious, innovative culture, we transform potential to productivity, performance and profits. Every 7 seconds, someone is taking a TTI SI assessment to increase their self-awareness and grow their career. For more information, visit http://www.ttisi.com and @TTI_SI.
Contact Information
Dina Giovale
Content Specialist - Marketing Communications
Phone: 800.869.9608 ext. 232