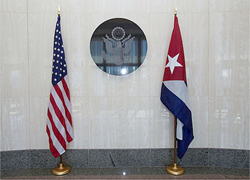 This is a win-win for Americans and Cubans. We're now one step closer to a safer, healthier future for people in both countries.
Oakland, CA (PRWEB) June 14, 2016
Medical Education Cooperation with Cuba (MEDICC) welcomes yesterday's signing of the historic agreement between the United States and Cuba, opening the way for collaboration in health.
"This is a win-win for Americans and Cubans. We're now one step closer to a safer, healthier future for people in both countries," said Gail Reed, executive director of MEDICC, which for nearly two decades has engaged with the U.S. and Cuban health communities. "But," she emphasized, "this is also just the first step. We hope President Obama will further open the door to cooperation by facilitating joint programs, research and drug development."
The memorandum of understanding (MOU) signed by Health and Human Services Secretary Sylvia M. Burwell and Cuba's Minister of Public Health Dr. Roberto Morales Ojeda, "establishes coordination across a broad spectrum of public health issues, including global health security, communicable and non-communicable diseases, research and development, and information technology," according to the HHS statement. The statement also noted that Cuba and the U.S. have many social and health issues in common, such as aging populations, as well as conditions such as cancer, diabetes and neurodegenerative illnesses. Both countries are also susceptible to emerging infections and mosquito-borne diseases such as Zika and dengue.
Today's partnership agreement sets the foundation, but there are other actions that the Obama administration can take right now to accelerate collaboration in areas of health of benefit to people in both nations. In February, MEDICC released a White Paper that outlines actions the President can take to eliminate barriers to the U.S. regulatory process for Cuban-developed biotech and other innovations and to remove obstacles to joint ventures between U.S. and Cuban entities in health and medical research.
The general authorizations by President Obama recommended by MEDICC include:

Cuban-developed pharmaceutical and other medical products be subject to the same regulations as those from other countries, eliminating extra hurdles and making U.S.–approved Cuban medical treatments more quickly available to American patients.
U.S. pharmaceutical and medical equipment companies be able to include Cuban hospitals and health centers in their clinical trials, potentially speeding up the approval process of new U.S. drugs by expanding the pool of qualified participants required for testing.
U.S. persons be able to travel to Cuba for medical treatment, providing Americans with more medical options, including Cuban services and treatments recognized worldwide.
"We need to ensure that successful government talks turn into concrete actions that could enable better health for millions of people," said Reed.
About Medical Education Cooperation with Cuba
Since 1997, MEDICC has worked to enhance cooperation among the U.S., Cuban and global health communities aimed at better health outcomes and equity. MEDICC produced the feature film ¡Salud! and publishes the MEDLINE-indexed journal MEDICC Review. MEDICC supports research in Cuba by U.S. health professionals, assists U.S. students and graduates of Havana's Latin American Medical School to return to U.S. underserved communities, and organizes Community Partnerships for Health Equity to improve health care and access in communities including: South Los Angeles and Oakland, CA; Albuquerque, NM; Bronx, New York; Summit County, Ohio; Milwaukee, Wisconsin; Red Mesa, Navajo Nation; as well as with four California Endowment Building Healthy Communities sites (Kern County, Del Norte County, San Diego and South Los Angeles). http://www.medicc.org and http://www.medicc.org/mediccreview