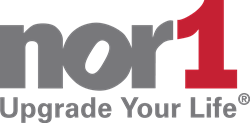 Santa Clara, CA (PRWEB) June 14, 2016
Nor1, the leader in hospitality merchandising technology, announced today that CheckIn Merchandising™, the latest addition to the Nor1 Merchandising Platform, is now empowering front desk personnel at The Knickerbocker Hotel to give each of their customers a better experience while boosting the property's bottom-line.
"We are excited to have CheckIn Merchandising™ in our front desk's tool set. Our success with Nor1's eStandby Upgrade® has proven that Nor1's merchandising solutions not only boost guest satisfaction and generate additional revenue for us, they also make our jobs easier by tailoring offers to each guest's unique preferences. We are confident that CheckIn Merchandising™ will enhance all of this and more by empowering our front desk agents to efficiently and effectively deliver more of our hotel's offerings to our guests" stated Leilani Nocon, Director of Front Office, The Knickerbocker.
CheckIn Merchandising™ increases revenue and enhances guest satisfaction by allowing properties to present intelligent offers in real-time at check-in to virtually all guests. Additionally, the CheckIn Merchandising™ Tracking and Management System provides properties with "one-touch" audits, commission reporting and performance tracking, allowing hotels to better track the success of their incentive programs, as well as building greater loyalty among their client bases.
"We are thrilled to have The Knickerbocker, one of the New York's premiere luxury hotels, on the Nor1 Merchandising Platform." said Jason Bryant, Nor1's Founder and CEO. "We are confident that adding CheckIn Merchandising™ to its workflow will allow The Knickerbocker to maximize the yield on their premium room inventory, generate revenue from ancillary offers and fortify guest intelligence."
To sign up now for Nor1 CheckIn Merchandising™ or for more information, visit http://www.nor1.com.
# # #
About Nor1, Inc.
Nor1, Inc. is the leader in hospitality merchandising technology. Headquartered in Silicon Valley, Nor1 provides data-driven pricing and merchandising solutions to maximize incremental revenues for hotels and resorts worldwide such as Hilton, IHG, Carlson Rezidor, Accor, and Wyndham. Nor1′s patented, dynamic decisions intelligence engine PRiME®, powers Nor1′s Merchandising Platform including its signature eStandby Upgrade®, eReach™, and CheckIn Merchandising™ solutions.
Nor1 is creating the fusion between technology and guest experience. It's that combination of expertise and skill that have set Nor1 apart and continues to attract technology's most distinguished investors such as Concur Technologies, Goldman Sachs and Accel Partners. For more information, please visit nor1.com.
About The Knickerbocker Hotel
To learn more about The Knickerbocker Hotel, please visit http://www.TheKnickerbocker.com.