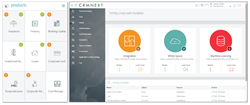 Mumbai (PRWEB) June 14, 2016
The disruption brought on by digital technology especially by fintech firms has put severe pressure on large financial businesses, to improve sales and wallet share. Resting on their legacy will not help. Thus, to help large financial brands digitize their processes, CRMNEXT, the world's #1 Commutable Cloud CRM solution, has developed the right growth formulae, aptly named Trinity Cross Sell Model and Catalyst Performance Model.
Trinity Cross Sell Modeler allows businesses to intelligently micro-segment customers according to various attributes defined by businesses. The attributes involved can be income, demographics, geography etc. It does so with the help of a powerful algorithm that meshes data through white space, machine learning and integration. Talking about its advantages, Sushil Tyagi, Director, CRMNEXT said, "Based on the holistic customer information, Trinity Cross Sell Modeler acts on the parameters defined by the bank to trigger offers. It helps to align customer product offerings and aspirations effectively. It also offers guided selling to executives that significantly increases conversions."
Catalyst Performance Modeler is an effective sales planning tool that helps customers to not only plan, but aid their sales teams to achieve their targets and beyond. It does so with the help of intelligent algorithms that take in past performance of the team, compares it with the trend and churn out strategies that can help the team. CIO of a large Auto Finance company said," CRMNEXT Catalyst Performance Modeler is amazing. It can take care of multiple projects and can converge sales dynamics with planning tools for desired output."
Dr. Manoj Kumar, Chief Product Architect of CRMNEXT, described the modelers as custom built to empower business users to effectively build customer relationships with faster and efficient sales process including cross sell and up sell. He said that a model with well-defined parameters that is easily configurable can be a critical factor for significant traction in cross sales. With a few clicks, a user can have a powerful automatic offer dispenser set up. He also added that Catalyst Performance Modeler can help customers, especially in the BFSI to strategize ways to achieve and go beyond desired targets, thus becoming the toast of the market.
CRMNEXT has been credited with having 3 of the world's largest 5 CRM installations. Over the past decade, it has been closely working with three of India's leading private banks – HDFC Bank, Axis Bank, ICICI Bank, top Insurance companies like Max Life Insurance, along with financial institutions like Bajaj Auto Finance, for providing customized solutions. The platform has enabled these organizations to experience seamless sales and service management, Reporting and Analytics, and deep knowledge management.
Results have been quite a testimony to CRMNEXT's depth and ability. Deployed at HDFC Bank for the past 8 years, it has resulted in a 52% increase in the service quality and 200% improvement in the Sales Turn-around Time (TAT). At Bajaj Auto Finance it has implemented a digital loan origination system with automated-underwriting and decision-making available at all dealer locations. This has enabled to complete the loan approval process in less than 3 minutes, delivering faster sales and a hassle free, seamless experience to the customers. CRMNEXT believes that similar tools will impact the entire financial business ecosystem by redefining customer interactions while necessitating new innovative internal processes and employee skills to support these interactions.
About CRMNEXT:
CRMNEXT is the No.1 Commutable Cloud customer relationship management solution company. It is available on both, public cloud and private cloud, providing a flexible ownership model as per business needs. It has many successful implementations of 40,000+ users each making it the preferred choice solution for large enterprises looking to create a common strategy execution platform.
CRMNEXT has established technology and practice leadership in multiple industry verticals to help its customers boost profitability by improving all customer related processes. Gartner recognizes CRMNEXT as a leading niche player in Sales force automation, Service Management and Lead Management. It has set benchmarks in the CRM industry with innovations like Autobot Upgrades TM, Autonoma Integration TM and Commutable Cloud TM which has brought paradigm shift in the implementation, total-cost-of-ownership (TCO) of CRM solutions.
It is committed to make digital journeys of its customers, simpler and profitable through disruptive innovations. For more information, visit: http://www.crmnext.com