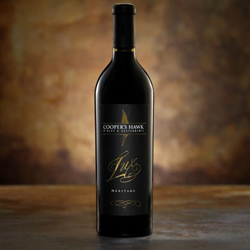 "We want our wine journey to be an adventure with people we know and trust."
Chicago, Illinois (PRWEB) June 14, 2016
Cooper's Hawk Winery & Restaurants, a leader in modern casual dining and known for their award-winning wines, is honored to announce that they've been hand-selected to exhibit at the 2016 FOOD & WINE Classic in Aspen. From June 17-19, 2016, the Cooper's Hawk leadership team will join some of the nation's top celebrity chefs and wine experts at this iconic industry event.
Founder and CEO Tim McEnery, Executive Chef Matt McMillin and Master Winemaker Rob Warren will be among those representing Cooper's Hawk and their 200k member Wine Club, a group that includes new enthusiasts who think about wine differently than previous generations.
"Our Wine Club members are drawn to the experiential aspects of our brand," says Tom Koenigsberg, Cooper's Hawk Chief Marketing Officer. "While they're avid knowledge-seekers, they are committed to forging their own path into the world of wine, using our tasting rooms to try new types of wine before they commit to ordering a full glass or bottle." "When it comes to wine, we're looking to expand our knowledge through personal connections," claimed one Wine Club member. "We want our wine journey to be an adventure with people we know and trust."
While a key aspect of the Cooper's Hawk experience is the human-to-human wine discourse that takes place between tasting room guides and fellow members, there are other trends emerging from the Cooper's Hawk tasting rooms: members are increasingly moving beyond the California wines that have traditionally dominated the American market, and they are continually thirsting to expand their palates with blends crafted from grapes grown across the globe.
Cooper's Hawk is bringing its tasting room experience to the FOOD & WINE Classic, complete with select wines and menu items prepared by Executive Chef Matt McMillin. McMillin will be sharing samples of his acclaimed Asian Ahi Tuna Sashimi with ponzu- ginger vinaigrette, avocado, radish, wasabi cream and sriracha alongside winemaker Rob Warren, who will pour some of the winery's most lauded wines from across their broad portfolio. Warren has been handcrafting wines at the company's Countryside Illinois winery since 2009. Select wine pours will include their Lux Pinot Noir, a gem that was awarded 99 points at the Critics Challenge International Wine Competition, their thirteen-time award-winning Lux Meritage and four-time award winning Lux Cabernet Sauvignon.
"Cooper's Hawk has created a 'better living' lifestyle brand for a new generation of food and wine enthusiasts," said Tim McEnery. "We're excited to exchange ideas with some of the most creative minds in food and wine. We will most certainly be bringing highlights of the FOOD & WINE Classic experience home to our Wine Club members and guests."
Cooper's Hawk was first opened in Orland Park, Illinois in 2005. Operations have since expanded to 23 locations throughout Illinois, Indiana, Missouri, Ohio, Florida, Virginia, and Wisconsin. Seven new locations will be opening through 2017. The company has garnered nearly 400 awards for their wine from various national and international wine competitions.
With a state-of-the-industry winemaking facility at its epicenter, Cooper's Hawk blends, ferments and ages wine from some of the best vineyards across the globe, producing nearly 50 varieties of wine that is sold in their tasting rooms and restaurants across the US. This approach enables Wine Club members and guests to try classic domestic varietals, as well as those from countries like Chile, Argentina and Italy – all at a reasonable price point. The winery also produces more exotic selections such as their Double Gold Ice Wine and their 94-point Gewurztraminer. The company feeds their Wine Club members' desire to try new products by creating a new wine every single month.
About Cooper's Hawk:
Redefining the modern casual dining experience, Cooper's Hawk is an unparalleled combination of restaurant, winery, Napa-style tasting room, and artisanal retail market. The innovative concept partners with some of the best grape growers in the world to craft the award-winning Cooper's Hawk wine collection. Additionally, Cooper's Hawk boasts one of the country's largest Wine Clubs, a life-style driven monthly affiliation offering exclusive wines, events, and privileges.
Stop by the Cooper's Hawk table in the Grand Tasting Tent.
More:
Website: http://www.chwinery.com
Twitter: @chwinery
Instagram: @chwinery
Facebook: http://www.facebook.com/coopershawk