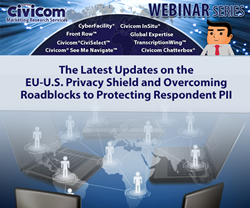 The EU-US Privacy Shield binds the global marketing research industry to strong obligations to EU data protection and accommodating respondent rights.
Greenwich, CT USA (PRWEB) June 14, 2016
Europe's highest court, Court of Justice of the European Union (CJEU), invalidated the Safe Harbor framework between the EU and the U.S. Accordingly, the US and the EU have reached an agreement for replacement of Safe Harbor. The resulting new legislative framework to replace it, the EU-US Privacy Shield, represents a definitive ruling with rippling repercussions for businesses operating globally. The new EU-US Privacy Shield will implement more stringent measures against mishandling of transatlantic data flows.
As a solutions provider that caters to clients globally, Civicom Marketing Research Services is well aware how crucial the impact of the new EU-US Privacy Shield is to international market research firms. While researchers seek diverse insights from all over the world, effective handling and total PII data protection across borders remain a challenge. Civicom's webinar will be tackling the requirements of the new EU-US Privacy Shield, its relevance to the market research industry, and what is necessary in data practices and strategies to effectively navigate and win the intricacies of compliance.
Supporting clients in managing privacy protection in light of the data protection ruling has been a focal point of Civicom Marketing Research Services during this legislative development. Civicom's webinar "Update on the New EU-US Privacy Shield and Overcoming Emerging Roadblocks to Managing Personally Identifiable Information (PII) for Marketing Research Respondents" will be presented by Rebecca West, Global Vice President of Civicom Marketing Research Services, on the following dates and times:
June 21 (Tuesday)
11am PT / 2pm ET
June 22 (Wednesday)
8am PT / 11am ET
June 23 (Thursday)
6pm PT / 9 pm ET
June 24 (Friday)
9 am Singapore Time
To sign up for the webinar, email inquire (at) civi (dot) com.
About Civicom Marketing Research Services
Civicom Marketing Research Services is a global innovator providing qualitative research tools using the latest technology solutions for marketing research. The company works hand in hand with market research firms, facilitating marketing research projects both locally, as well as those with extensive global reach.
Civicom Marketing Research Services offers many options to enhance the research process for marketing research professionals. Civicom is the global leader in facilitating telephone and web-enabled IDIs and Focus Groups using Civicom CyberFacility®. Civicom also offers Civicom InSitu® Mobile Research, a qualitative tool to conduct audio diaries and patient journeys. Civicom operates in over 96 countries and offers extensive translation services for marketing researchers, as well as transcriptions through TranscriptionWing™, and respondent recruiting through CiviSelect™. All of these services are available in Spanish, as well as English, as well as other languages.
Civicom Marketing Research chooses to be as dynamic as it is innovative; always listening to and acting on clients' ideas and requests as makes sense. This kind of relationship has paved the way for the development and rollout of new services.
To learn more, email Civicom® at inquire (at) civi (dot) com or call +1-203-413-2423.