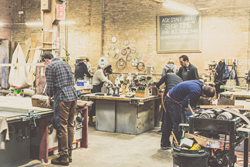 "Rebuilding Exchange diverts valuable material from landfills and creates opportunities for creativity in the process,"
Chicago, IL (PRWEB) June 14, 2016
Rebuilding Exchange launched an Artist in Residence program today at the nonprofit organization's retail warehouse at 1740 W. Webster Ave in Chicago. Chicago artist Jim Duignan, who founded DePaul University's Arts Education Program and the Stockyard Institute, will spend a year in residency at Rebuilding Exchange creating art from its inventory of reclaimed building materials.
Rebuilding Exchange is a non-profit social enterprise that creates a market for reclaimed building materials. Since 2009, Rebuilding Exchange has diverted 10,000 tons of building material from landfills while creating over $2 million in value by making reuse materials available to the public. The launch of the Artist in Residence program coincides with a June 17th fundraiser celebrating the 100th graduate from Rebuilding Exchange's job training program.
Duignan will work out of a production space in the Rebuilding Exchange on Tuesdays, Wednesdays and Saturdays when the warehouse is open to the public. The space is a perfect setting for Duignan's work, such as his Podium series and A Plea for Playgrounds which use reclaimed materials to draw connections between community, social change and Chicago history.
"Rebuilding Exchange is filled with unique pieces of history that Chicago artists scour our alleys to find," said Duignan, "There's a huge amount of potential here for artists, educators and anyone looking to create positive change."
Rebuilding Exchange operates a retail warehouse, provides job training and education programs and creates custom products from reclaimed materials. The Artist in Residence program brings a new cultural aspect to Rebuilding Exchange that Duignan hopes will connect a wider audience to the organization's work and further Rebuilding Exchange's mission.
"Rebuilding Exchange diverts valuable material from landfills and creates opportunities for creativity in the process," said Kelly Farley, executive director, Rebuilding Exchange. "We are honored to have Jim Duignan here as our Artist in Residence and to open up our warehouse to his talents."
###
About Jim Duignan: Jim Duignan is an artist and teacher who was born and raised in Chicago, having attended and studied studio arts at Taft High School. He received his B.F.A. at the University of Illinois at Chicago, influenced deeply by two of his teachers, artists, Robert Nickle and Martin Puryear. Duignan received his MFA from the University of Illinois at Chicago in Studio Arts. Jim Duignan has been a faculty member at DePaul University since 1992, currently an Associate Professor in the College of Education at DePaul University having founded the Arts Education Program (2005). He was awarded the University Public Service Award and the recipients of multiple grants and awards for scholarship and service. Jim Duignan won the top award from Artadia (2008) and has been the awarded grants from the Weitz Family Foundation, Purcell Family Foundation, PNC Bank Foundation and the Wrigley Company. http://jim-duignan.org/
About Rebuilding Exchange: The Rebuilding Exchange is a non-profit social enterprise (501c3) and our mission is to create a market for reclaimed building materials. We do this by diverting materials from landfills and making them accessible for reuse through our retail warehouse, by promoting sustainable deconstruction practices, by providing education and job training programs, and by creating innovative models for sustainable reuse. http://rebuildingexchange.org/ - https://twitter.com/RXChicago - https://www.facebook.com/rebuildingexchange